Agree or Nah? Amber Rose Makes an Interesting Statement About the N-Word
She ties it all to feminism.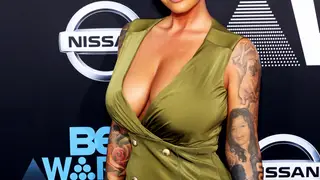 Amber Rose is continuing along her mission to free women from the oppression of men in this patriarchal society, and in her journey to do just that, she's connecting the infamous S-word (slut) to a historically offensive term that surpasses generations.
During an appearance on Complex's Everyday Struggle, she compared the word "slut" to the N-word, stating that women are re-claiming the term in the same way the N-word was embraced by the Black community over time.
"We're saying now that a 'ho' and a 'slut,' those terminologies don't exist," co-host Joe Budden started. "Those are words that just exist because people are uncomfortable with..."
Amber quickly interjected with her bold sentiment.
"It's the same way that Black people use the N-word as a positive word now, right?," she said. "It's still very controversial. Some people don't like that, right? But, it makes Black people feel comfortable that, you know, they took the word back. That's it. It's the same thing as slut."
Hear her words in full context, below:
Do you agree with the self-proclaimed feminist's opinion?
Get more Amber Rose news with BET Breaks, above.