Allen Stone Lives In His Own Positively Authentic World
The R&B/Soul artist is making music on his terms.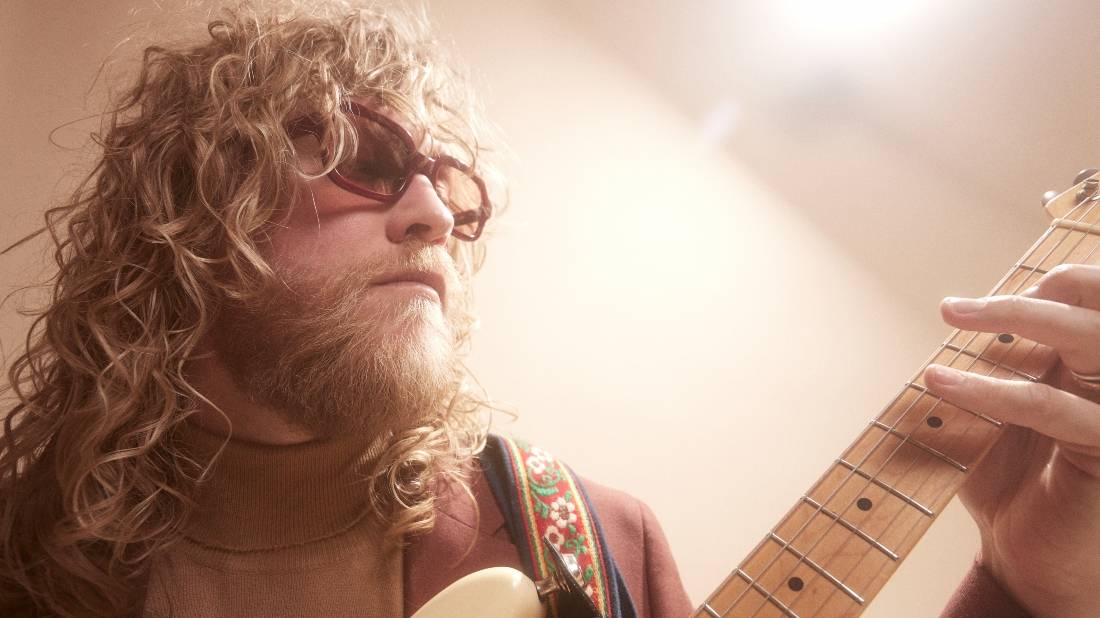 Washington State-based R&B/Soul artist Allen Stone may have just celebrated his 36th birthday recently but he comes off as an artist twice his age. Beyond the retro vibe of Stone's music, style and fashion, there's a wise feeling of gratitude now that he's older.
"I kind of dig getting old," said Stone."The minute things that seemed to plague me in my twenties don't hurt as bad. It seems like the important things in life start to remain and the things that aren't important seem to drift away."
Stone has been through a lot over the past decade from getting the attention of major labels after a breakout indie release to getting dropped and becoming an indie artist again. He's even gotten major looks including a feature on Macklemore and Ryan Lewis' Grammy Award-winning album The Heist, a mentorship role on American Idol and an appearance on American Song Contest.
Through it all, those soulful vocal pipes and old-school approach to music have earned him serious praise. Albums ranging from his debut self-released project Last to Speak, all the way to 2021's APART blend vintage swag, social commentary and general positivity. Makes sense considering Stevie Wonder, Marvin Gaye and Aretha Franklin among others count as musical inspirations.
Speaking with BET.com, Stone discusses the importance of showing gratitude during the ups and downs of his music career, staying authentic when making Black music as a white man and the importance of music education.
BET.com: One of my favorite songs from you is the "Love Where You're At" joint which was featured on your last album APART but was first on your Radius album. Do you remember the moment that led you to have that level of self-acceptance?
Allen Stone: I had signed with Capitol Records for Radius. The previous album I had recorded independently with a really great producer named Lior Goldenberg and another producer named Andy Rose. We just kind of put it out ourselves and it was very much boots on the ground. When I got the call from the major labels, I was weary because of all these stories from all my peers about getting shelved or not getting priority. At the time I thought it wasn't going to happen to me. I had like three or four labels bidding for my attention. When I signed with Capitol, I even made sure that the A&Rs had just re-upped their contracts.
Sure enough, my entire team over there had left halfway through the recording process and I got a brand new team. I was in such a dark place and I remember flying on my way to Sweden as that's where I recorded a good amount of the Radius record. At one point I remember just being overwhelmed with gratitude for some reason. Sometimes I get super emotional on airplanes. I'll be in the middle of a flight sobbing watching Green Mile a couple of American Airlines peanuts deep.
The first line in the song is "I keep my dirt on the surface, so you don't got to dig." Everyone is human and with that song, I'm going to be real in these emotions and really feel what's happening and be honest about it. I think for a lot of folk, it's hard to be vulnerable and you don't know what you're going to receive. And I think there's a lot of relief and therapy from vulnerability and honesty. So that's sort of really where that song was birthed from.
BET.com: Last year you dropped "5 Minutes." How does that single set you up for a follow-up to your APART album?
Allen Stone: I've really kind of been in search of what does the next sound feels like. What is my audience going to connect to? I've been having so much fun in the studio just attempting to figure out new ways of writing music. Typically my songwriting has always been pretty binary. I play and hope some cool stuff comes of it. On "5 Minutes," I went in and we wrote the tune completely differently. The producer had the track and he gave me a microphone. I started just humming melodies over the track that he'd made and built from there. So I think for me, maybe it's the evolution of "5 Minutes."
I've been doing this for close to 15 years and I do feel comfortable in my ability to make good art and survive off this art. I think there's a lot more freedom in that feeling that I don't have to keep up with the Joneses necessarily. In regards to an album, we're about 30 songs deep and I think I got about seven good ones. I'm hoping that we'll have a project situated and ready to get out by the top of next year.
BET.com: One of my favorite joints from APART is "American Privilege" which interpolates Kendrick Lamar's "Bitch Don't Kill My Vibe." Where do your R&B and Soul influences meet with hip-hop?
Allen Stone: I really got into Common, Talib Kweli and Yasiin Bey straight out of high school. Around the same time, I really got into Marvin Gaye's What's Going On. It was like music that was saying something. I grew up in a very religious household and left after high school. I initially went to Bible college to be a music pastor or something and that led me in a completely different direction. I think a lot of kids do that when they leave home for the first time. They got to figure out what they believe and why they believe it for themselves and so a lot of music I was listening to is deeply conscious music. That's really where I dove into hip hop initially. I wouldn't say that I dabble in it as much as I used to. My taste recently has floated more to funk, James Taylor and Joni Mitchell. There was definitely a phase in my life where hip-hop was king.
BET.com: You served as a mentor on American Idol and was featured on American Song Contest as well. What do these mainstream pop moments do for an indie artist such as yourself?
Allen Stone: Anything that puts your art or music in front of that many bodies is naturally going to lift it. I think initially dipping my feet into that pop culture world was always a little terrifying. But if I get really back to the roots of what I wanted to do with music, which is to play and write songs with emotion for as many people as I possibly can, it doesn't matter who they are. I'm a pale country kid from Washington State singing soul and R&B music. Those types of shows scare me. I just want to make many people happy with art and music and this opportunity allows that. Even with the mentorship with American Idol, there are a lot of young kids coming up in the music industry that I could shed wisdom on. I've been through getting screwed over by managers, getting dropped by a label, and canceling a tour. I think mentorship is a great opportunity. I enjoy shedding light and reaching out a helping hand.
BET.com: Most recently, Bobby Caldwell recently passed to the shock of the R&B world. As a white man, what's your approach to the genre in terms of paying homage to its Black foundation?
Allen Stone: I'm a vessel of art really. I remember when I was a kid, it started in church singing old hymns while being into James Taylor and John Denver. Then that progressed to somebody showing me a Music Soulchild record and I thought that was fucking cool. My mother had this very deep vibrato when she sang and the only place I found that very deep vibrato signature was in R&B and soul music. After that, I was just consumed. When you consume R&B, soul and traditional Black music, you're going to be a vessel of that. So, I do my best to make sure that I'm paying homage to it as best possible. I think ultimately, what has always rang true in that culture of American R&B and soul music is honesty. When it comes to Black music culture, people know when you're faking it.
BET.com: You're serving as Berklee's Guest Professor as a Herb Alpert Visiting Artist. How important is music education when music is way more approachable by anyone nowadays?
Allen Stone: I think it's more important now because people need to know what it actually takes. People need to know what it actually takes to stand in person 10 feet away with no mics or amplification; just an instrument, voice and song. They're throwing autotune on the shit, beat mapping and all quantizing. Now we're in the beginning stages of face filters and we're seeing where deep fakes are going. Sooner or later we're going to be praising the Amish for never jumping down that electronic digital phase because nobody knows what's real anymore.  Personally, I think keeping a tradition of where music originated from, where it came from, and what its purpose was is important. Its purpose was to bring people together and unite them via song and via tone and tune. And I think passing down that knowledge is very important.