Mind Your Money: This New Homeowner Gets Expert Advice On Affording Home Renovations
This mom of two is living her best life after her lender paid off her mortgage.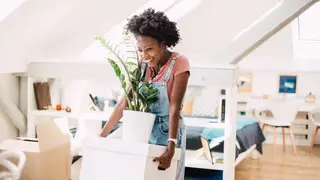 Job: Scheduling coordinator for a medical group
Salary: $1,375 every two weeks, plus a monthly veterans benefit of $3,548 
Money Shift: Home mortgage paid off
Goal: Renovate kitchen in new home
Army veteran Natasha Harmon lived the dream when she purchased her first home, a four-bedroom spread with office space on a corner lot.
However, the Alabama mom is now living her wildest dreams after her lender gifted her the almost $230,000 home.
Harmon, 40, won a campaign sponsored by her lender, Veterans United Home Loans, a Columbia, Missouri company. The lender awarded 11 veterans the mortgage payoff.
"I was beside myself," said the mother of two.
Harmon pursued homeownership in July after her property manager told her that her family of four (Harmon has a partner) needed to move by Oct. 1.
She worked on improving her credit score before closing on her property in October.
In November, impressed by her tenacity, Veterans United told Harmon that the home was paid in full.
"She worked with us side-by-side and put in the work," said Pam Swan, vice president of military relations and business development for Veterans United.
The lender says that veterans' personality traits of service and sacrifice are what people should want in their communities.
"You want them coaching your kids' football game, volunteering in church, or volunteering in your clubs,"  Swan said. "They make communities stronger."
Harmon's mortgage was supposed to cost $1,200 per month. The extra cash she has is being put to good use. She has an 18-year-old daughter away in college, and a 4-year-old son. She earns $1,375 every two weeks as a scheduling coordinator for a medical group. She receives $3,548 monthly for being a veteran.
Harmon has a car with $17,000 and a truck with a $40,000 balance.
Harmon says she now wants to focus on putting personal touches on her home, that's about a decade old. She wants to renovate the kitchen, especially the cabinets, and she also wants new appliances. She is thinking about a shed for the home, which sits on just under an acre in a rural community.
"These are the things that put a twinkle in my eye," Harmon said.
In addition, low ball bids are often a red flag, so homeowners should be wary. Every state has a limit of how much of a down payment a homeowner may be required by the contractor to put down. Unethical contractors push for 40% to 50%  of the project price upfront.
"Anything above 30% is too much," Costello said.
Costello also advises people interested in renovations to:
●     Conduct a background check to reveal complaints online by googling the contractor's name and company name and checking for reviews, potential lawsuits, and prior complaints.
●     Check to see if the contractor's license is current, under the correct name, and has no history of complaints.
Caveat: Just because the license does not display any complaints doesn't necessarily mean there are none. It can take upwards of 18 months for complaints to be disclosed, and in the interim, the contractor is free to practice. Hence, do your background checks online.
●     Never pay cash and never pay a considerable amount to begin the project. Refer to your state's laws on this.
●     Make sure your written contract is detailed as to what work will be performed, including scope-of-work to be done, with a description of materials to be used such as sizes, makes, models, and color.
●     If you or the contractor need to make changes to the project, be sure to add a signed change order where you both sign and agree to the cost and add it to the overall project cost.
●     Collect Lien Releases upon payments made to the contractor, which protect the homeowners from Mechanics Liens filed against the property in the event of a dispute on monies paid or owed to the contractor.