Racist Tweets Are Already Flooding in About The Wiz
But Black Twitter is quickly shutting it down.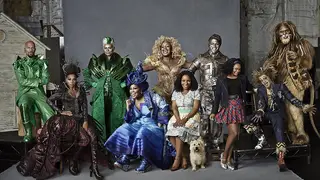 The Wiz Live! hasn't even made its debut yet and some folks are already mad for one reason that's become all too expected: race.
Apparently some people are unaware that The Wiz and The Wizard of Oz aren't one in the same. The former is loosely based on the latter. While the cast of The Wizard of Oz is known for having an all-white cast, The Wiz, inversely is known for its all-Black cast — remember the 1970s adaptation featuring legends Michael Jackson, Diana Ross, Lena Horne and Richard Pryor?
Well, some white folks have an issue with this because, honestly, they just don't seem to get the differentiation. Here are a couple of crazy tweets from good ol' Twitter:
The ignorance didn't get past the intelligent minds of Black Twitter as they were quickly reminded of their privilege even with something as simple as this play.
To all of the delusional and uninformed critics out there: in the words of Tamar Braxton, have several seats.
Watch MJB talk about her stint in The Wiz Live! on the Wendy Williams Show below:
BET.com is your No. 1 source for Black celebrity news, photos, exclusive videos and all the latest in the world of hip hop and R&B music. 

(Photo: Paul Gilmore/NBC)