Run That Back: This Week in Music Featuring Miguel, Gucci Mane and More
Our music staff picks their favorite songs released July 29-August 5.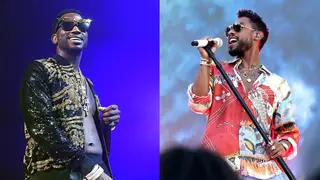 There were a few big releases in music this week, however we were expecting a really big one. Frank Ocean has so far failed to drop his Boys Don't Cry album and we're slowly starting to believe either he's never going to release it or it doesn't exist.
Miguel released his song "Cadillac" yesterday (August 4). It's sharp but very groovy at the same time. Listen to it here.
Gucci Mane released a lot of music while in prison, but it seems like he was working on his latest effort the whole time he was incarcerated. Everybody Looking is a banger and finally dropped last week. Dreezy caught wind of Gucci's rise and released her latest video just a few days ago for "We Gon Ride" featuring Guwop. Check it out here.
E-40, Wiz Khalifa and PARTYNEXTDOOR all also released music. Check out what our staff's favorite picks were for this last week below.
Miguel – 'Cadillac'
Miguel is the antithesis of a "one-trick pony." Consistently furthering his music palette to include ballads, rock, R&B, hip-hop and various other sonic flavors, the singer has now decided to lead us to the dance floor. His latest offering "Cadillac" puts horn accents to great use for a feel-good invitation to a romp in the backseat of a car. Skip the romantics and get straight to the pulsating groove. Just what every girl secretly wants. — Iyana Robertson
Fat Joe and Remy Ma Featuring French Montana and Ry So Valid – 'Cookin'
OK, first things first: Are Fat Joe, Remy Ma and French Montana forming a supergroup or something? If so, I'm here for it. "Cookin" is the follow-up to "All the Way Up," and while it doesn't hold as much anthemic weight as the first single, the charged-up beat alone makes for a great tune. One thing is for certain: Remy has hit her stride and it's glorious. — Kathy Iandoli
Wiz Khalifa – 'Bad Influence'
Classic Wiz is back! The PA rhymer takes it back to his classic Taylor Alderdice sound on the wavy, Sledgren produced "Bad Influence." For those in search of a new "Women, weed and weather" type of groove, this track will keep you mellow even in rush hour. — Jacob Rohn
Ariana Grande – 'Honeymoon Avenue (Original Version)'
Not that I need to justify myself to anyone, but I really enjoy Ariana Grande's voice – it's perfectly versatile in the way that it can even hold front-and-center to modern legends like The Dap Kings, who are just phenomenal. This version of "Honeymoon Avenue" was for her 2013 album Yours Truly and was cut for a really awful version. The original is like the perfect musical mullet: pop in the front; funk in the back. With Ariana's sensibilities edging closer to R&B, it's cool to see she's got chops for other sounds. — Jon Reyes
Dreezy Featuring Gucci Mane – 'We Gon Ride'
All this Guwop can't be a bad thing. Dreezy seems to agree as she grabbed Gucci Mane for her latest song and visual. "We Gon Ride" is exactly how you would expect it to sound and is accompanied by a video just as fitting. Rocking an old school convertible with her young homegirls, Dreezy shows she ain't no joke. You best get out of her way as well. — Paul Meara
NAO – 'Get to Know Ya'
Gaining traction over this past year with promotional singles such as "Girlfriend," "Fool to Love" and "Bad Blood," NAO, a singer-songwriter from East London, has been mesmerizing listeners with her effortlessly cool sound and incredible vocal talents. Giving the classic soul sound an electronic facelift fit for dance floors in 2016, NAO's creating forward-thinking slow dance songs full of flair and drama. Her track "Get to Know Ya" is a wonderful introduction to this artist, opening up her new album For All We Know, which impressively features 18 tracks mixed among some colorful, artful ad-libs that glimpse into some of her creative process. Throughout the album, she doesn't really ever miss, with each track winning over new fans of pop, soul and R&B alike. Get to know NAO. — KC Orcutt
PARTYNEXTDOOR – 'Don't Do It for You No More'
Fridays are strictly for the turn up. But in case you're having trouble getting on that level, PARTYNEXTDOOR released a track you'll be able to vibe and even be a little emo to. The track, produced by Biznessboi, Soufwest and TH3ORY, is the third single off PND's upcoming album, P3. — Janice Llamoca