Is Jesse Williams Sending A Message To His Estranged Wife With This T-Shirt?
You be the judge.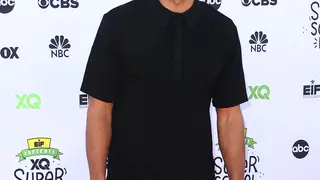 Jesse Williams and his estranged wife Aryn Drake Lee have had a messy divorce. However, just recently, they locked down a custody arrangement (the parents will share joint custody of their two kids) and the storm seems to be over. But now some folks are interpreting Jesse's recent choice of clothing as a message to Aryn. 
Jesse was living his life, getting gas in Los Feliz, and the paparazzi snapped this photo. See below:
Now, TMZ is asking if the words "free" were a dig to Aryn. "The kids might be off the table now, but only time will tell if he's home free for the rest of his divorce."
Jesse could've easily just picked out this shirt because it looked comfortable that day. We highly doubt Jesse would be this petty!
For more info on Jesse's divorce, watch the BET Breaks video above.