Bug a Boo! Is Kylie Threatening a Restraining Order Against Tyga?
Things are going from bad to worse for the former couple.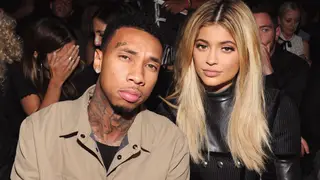 He just can't quit her.
Kylie Jenner is considering drastic legal action against her ex Tyga, sources claim, because the rapper refuses to leave the reality star alone since their breakup last month. "Kylie has threatened Tyga with a restraining order since he refuses to stop calling, texting and emailing her," a family insider tells RadarOnline.com. Apparently Kylie's mom Kris Jenner suggested the move, and now Kylie, 18, "is starting to come round to the idea." 
"Tyga's absolutely out of control and goes from begging her to take him back to leaving angry four-letter messages for her if she doesn't pick up," says the source. "He's so desperate right now and needs serious money fast or he's going to go under — she was his major source of income and now that's gone, Kris is worried he's capable of anything."
There's also the matter of the $2 million Kylie reportedly loaned Tyga during their two-year relationship, though she vehemently denies the claim. Still, sounds like Tyga isn't happy being on the outside again.
"Kylie's warned Tyga it's coming if he doesn't leave her alone," said the insider. Tyga, meanwhile, is unbothered. "He's not taking her seriously," noted the insider. "He's still convinced she loves him and it's her family forcing her to do this. That's true to a certain point, but Kylie was getting embarrassed at being seen with him. She can do so much better."
Meanwhile, looks like Kylie has already moved on to another man. Watch BET Breaks above to get the scoop.