Michael Strahan Is 'Hurt' After Another Talk Show Host Shaded Him
All the details appeared in a tell-all.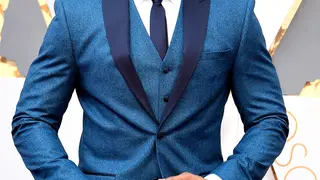 Michael Strahan wasn't too happy with Andy Cohen sharing his opinion on his dramatic exit from Live. In Cohen's new book, Superficial: More Adventures From the Andy Cohen Diaries, the talk show host explained how Strahan felt when they ran into each other on one occasion, saying he was "hurt."
"He said it hurt his feelings," he wrote in the book, according to Page Six.
Recounting the moment they ran into each other at the Met Gala back in May, he said the former NFL star didn't hesitate when confronting him about what he said. 
"Going into dinner, I walked right into Michael Strahan, who said he can't believe I did him that way, that he was so surprised I joined the pileup," he wrote. "...I said, 'Dude, I really like you and I wasn't going in on you.'"
All is well between them now though, as Cohen added that they eventually "hugged it out" later that night.
In terms of his friend Kelly Ripa's involvement, Cohen also wrote in his book that "ABC mishandled [Ripa] in a pretty epic way... they seriously f****d with her."
See how Kelly and Michael parted ways on his final episode with BET Breaks, above.