Shanquella Robinson's Family Sends Cease-And-Desist Letter To Tubi Series
Her loved ones are re-living the tragedy 'in a manner that is inaccurate and disrespectful,' the letter states.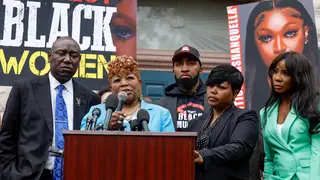 A lawyer representing the family of Shanquella Robinson, the Charlotte woman who died during a trip with friends to Mexico last October, sent a cease-and-desist letter to the crime drama "Street Legal" for its alleged use of her death in a recent episode, REVOLT reports.
"We must express our profound dismay at the distressing misrepresentation and unauthorized use of Shanquella's identity and the events surrounding her tragic passing," the letter from attorney Sue-Ann Robinson reads, according to REVOLT.
The series, which airs on the video streaming app Tubi, allegedly crossed a line with its season 2 episode 2 show titled "Frenemies." Sue-Ann Robinson wrote that the episode infringed on Shanquella Robinson and her family's legal rights and inflicted emotional distress on her loved ones by forcing them to relive the tragedy "in a manner that is inaccurate, disrespectful, and damaging to the reputation."
The attorney demanded that Tubi and others remove the episode and Robinson's likeness from their platforms. There's also a demand for a public apology and compensation to her family.
Robinson, 25, who had traveled to Mexico with six friends from college—four women and two men—was discovered unconscious on October 29. The group was staying in a rented tourist property in San Jose del Cabo, in Baja California Sur, more than 1,000 miles south of San Diego.
Her family said the friends told them she had died of alcohol poisoning. However, a viral video on social media showed Robinson being attacked by someone vacationing with her. It is unclear when the video was taken during the trip or if Robinson's injuries resulted in her death.
U.S. prosecutors announced in April that they would not bring charges in Robinson's death because they did not find sufficient evidence to pursue a federal criminal case.
Meanwhile, Mexican authorities have issued a warrant for a suspect and requested an extradition of that person to face charges there. An autopsy by Mexican officials said Robinson died from severe injuries to her spinal cord and neck. However, an autopsy in the United States found a significant discrepancy with the Mexican autopsy.