Social Media Reacts To 'New Jack City' Stage Play
The cast will include Flex Alexander, Treach, Big Daddy Kane, and Allen Payne who starred in the original film in 1991.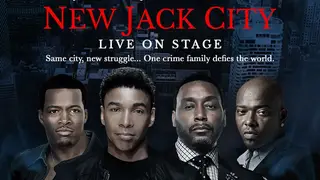 New Jack City is coming to a stage near you!
Film producer Je'Caryous Johnson is bringing the Nino Brown story on tour as a stage play and has tapped One on One alum Flex Alexander, House Of Payne star Allen Payne, Big Daddy Kane, and Naughty By Nature member Treach as the leads.
New Jack City was released in 1991 with Payne also starring in the film alongside Wesley Snipes, Ice-T, and Chris Rock which followed the rise and fall of well-known drug kingpin Nino Brown.
Social media already has an opinion on the cult film turning into a stage play and they're nothing short of hilarious.
Johnson was also responsible for bringing Set It Off back as a stage play in the past, which starred Da Brat, Kyla Pratt, LeToya Luckett, and Demetria Mckinney in the original casting.
Tickets for the New Jack City play are available now with the production kicking off in Philadelphia on November 4th running through February 26th, ending in St. Louis, MO.