That Was Fast: Did Kylie Just Take a Big Step in Her Relationship With Travis Scott?
The new couple are getting serious, according to reports.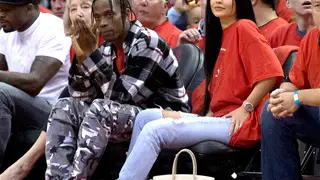 Kylie Jenner and Travis Scott seem to have put their paparazzi-friendly relationship on the fast track. The couple have reportedly moved beyond PDA and hanging with each other's crews to something far more serious.
According to sources, Kylie just rented a gigantic new pad in the Hollywood Hills and has asked her new beau to move in with her. Sorry, Tyga.
A source tells Hollywood Life, "Kylie and Trav have been discussing moving into her new pad together. It's temporary. They're really into one another and she's the one who suggested that they play house and see how living under one roof would be. She doesn't want him to pitch in financially, she just wants his presence!"
The source adds, "It's a big ass house and Kylie honestly doesn't want to be there alone with her dogs. She would be too scared. She wants to feel protected and secure and Travis provides that. Besides, she wants someone to keep her warm at night and to tell her how beautiful she is in the morning. And the only man she wants to make her feel that way and tell her that is Travis!"
We know Kylie is a relationship kinda gal, so we wouldn't be surprised if this little fling turned into a years-long thing before we know it.
Catch up on Scott's recent legal trouble with BET Breaks, above.