Vernon Winfrey, Oprah's Dad, Has Died
The former councilman passed away at 89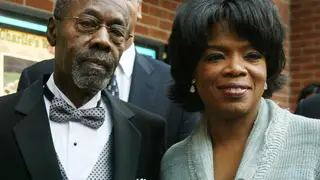 Vernon Winfrey, the father of media mogul Oprah Winfrey, has died at the age of 89.
Oprah took to social media to announce her father had passed away less than a week after the entire family came together to have a "Vernon Winfrey Appreciation Celebration" on July 4.
"Less than a week ago we honored my father in his own backyard. My friend and gospel singer Wintley Phipps saluted him with song. He FELT the love and reveled in it until he could no longer speak," Oprah wrote on social media.
Vernon Winfrey was an army veteran, businessman and served on Nashville's Metro Council for 16 years. The city's mayor, John Cooper, also sent his condolences to the Winfrey clan.
"I offer my deepest condolences to the family of Vernon Winfrey," Cooper wrote on Twitter. "Vernon served on Metro Council for 16 years, and dedicated his life to entrepreneurship, barbering and mentoring young men in the community. An Army veteran and deacon, he leaves behind a legacy of service."
According to Oprah Daily, the TV maven had spent the last few weeks with her father, who had been battling cancer. Before he died, Oprah said it was important for the family to surround Vernon with love, so he could receive his "flowers while he's still well enough to smell them." Oprah and the family were also by his side when he died.
"Yesterday with family surrounding his bedside, I had the sacred honor of witnessing the man responsible for my life, take his last breath. We could feel Peace enter the room at his passing," she said.
Born into poverty to Vernita Lee, a teenage mom, Oprah had a tumultuous childhood before she was sent to Nashville to live with her father as a teen. In a 1986 interview with The Washington Post, she said it was a turning point in her life.
"If I hadn't been sent to my father (when I was 14), I would have gone in another direction," she explained. "I could have made a good criminal. I would have used these same instincts differently."
Ahead of Father's Day, Oprah shared some of her dad's wisdom on Oprah Daily, telling readers, "If it were not for him, I doubt that anybody in the world would know my name."