Serena Williams Has Easy Start to U.S. Open
No. 1 women's player only takes 27 minutes to advance to second round.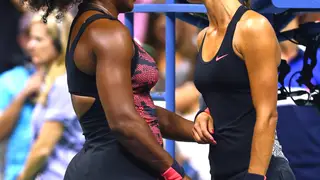 Serena Williams is already the most dominating women's singles tennis player in the world.
But only taking 27 minutes to defeat an opponent is absurd, even for Williams.
Williams defeated Vitalia Diatchenko (6-0, 2-0) during the first round of the U.S. Open at Arthur Ashe Stadium in New York on Monday night, after her opponent was forced to medically retire from the match due to an Achilles injury.

Although Williams called the results "different and bizarre," she isn't complaining. Remember, the tennis great is aiming to complete a calendar-year Grand Slam, as she has already won the Australian Open, French Open and Wimbledon earlier this year. That and winning the U.S. Open would give her a fourth straight title at the tournament and a 22nd career Grand Slam title, tying her with Steffi Graf's 22 and pulling closer to Margaret Court's 24 for most Grand Slam championships among women's singles players.
With all that at stake, Williams was unfazed by not being able to complete her opening round match.

"I don't think that's a worry, because my practices are really intense and I really fight really hard in my practices," Williams told ESPN. "I know that every match is a challenge. I have to be ready for everything."
"Honestly, if can just stay relaxed, stay in points and stay calm, that's all I have to do," Williams also told Mary Joe Fernandez, as reported by ESPN. "I have to just stay happy out here."
She should be staying happy. She's chasing and making history at the same time.
BET Sports News — Get the latest news and information about African-Americans in sports, including weekly recaps, celebrity news and photos of your favorite Black athletes.
Click here to enter the #LookYourSundayBest contest for a chance to win FREE natural hair-care products.

(Photo: Clive Brunskill/Getty Images)