KeKe Wyatt Posts Suspicious Pic Sparking Rumors That She Has A New Man
What's good, Keeks?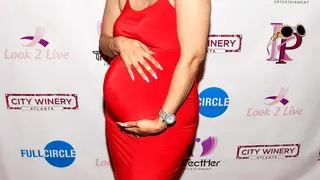 Has KeKe Wyatt moved on from her marriage or nah? That's the question on the minds of many after seeing one of her most recent Instagram posts.
Get more on KeKe's crumbling marriage with BET Breaks, above.
The very married songstress shared a photo of her happily hugging a mystery man and captioned it, "About last night…" The dark filter applied to the photo made figuring out the man's identity nearly impossible.
KeKe Wyatt's comment section immediately blew up with support from many fans in support of her moving on after the public battle she endured with her estranged husband, Michael Jamar.
Months before delivering her ninth child, Wyatt revealed that she was an "emotional wreck" after learning Jamar had filed for divorce. Jamar quickly released a statement claiming his marriage was a "toxic environment." Despite the back and forth online, Wyatt would go on to announce the arrival of her ninth child late last month.