37th Annual Stellar Awards: Pastor Mike Jr. Says 'Believe Big' After Taking Home 'Artist of the Year​​'
The Gospel recording artist took home a total of 6 awards.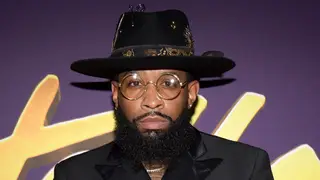 The Stellar Gospel Music Awards celebrated its 37th year honoring the biggest and brightest in Gospel music during an uplifting weekend of events, concluding with the live-taped ceremony on Saturday, July 16, at Cobb Energy Performing Arts Centre in Atlanta Georgia.
Pastor Mike Jr. led the list of winners with half of dozen Stellar Awards, including, "Contemporary Male Artist of the Year", "Contemporary Album of the Year", and "Urban/Inspirational Single or Performance of the Year", as well as "Album of the Year" for I Got It: Single's Ministry Vol. 1. The season musician also took home the biggest award and final of the night, Artist of the Year.
While accepting his honor Pastor Mike Jr. spoke about believing in yourself even in the eyes of those who don't believe or don't want you to succeed. Check it out below.
"We live in a culture where they penalize you for believing in yourself. The same devil that causes arrogance is the same devil that causes inadequacy. So if they're going to demonize you for believing in yourself you might as believe big."
The 2022 Stellar Gospel Awards was hosted by Jekalyn Carr and Kierra Sheard, marking the first time two women have hosted in the show's history.