BET Awards 2023: Top 5 Stellar Tribute Performances
Take a trip back in time to some of the most stellar performances.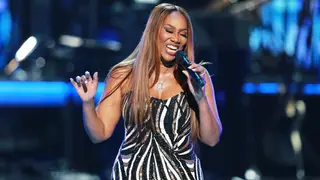 Tribute performances are some of the biggest highlights of the BET Awards. Over the years, some of the music industry's most prominent figures have paid homage through song to some of the most prolific figures in the business. These five unforgettable BET Awards tribute performances serve as a testament to the power of music to immortalize and honor the icons who have shaped the fabric of our musical landscape.
Yolanda Adams Sings Anita Baker's 'You Bring Me Joy'

Gospel legend Yolanda Adams gave arguably one of the best tributes in BET Awards history when she sang "You Bring Me Joy" to the icon herself, Anita Baker  at the 2018 ceremony. Adams left audience members in awe and brought Baker to tears with her powerhouse rendition of the classic record.

Swizz Beatz, The Lox, Method Man & More Honor DMX

During the 2021 BET Awards, friend and longtime collaborator Swizz Beatz along with fellow rap legends including, The Lox, Method Man honored Earl "DMX" Simmons performing a medley of the lates emcee's classic records.

Luke James pays tribute to Johnny Gill

New school honored old school as actress and singer Luke James  gave a sultry performance of  Johnny Gill's hit single "My My My" at the 2017 BET Awards.

YG, DJ Khaled, Marsha Ambrosius, John Legend Perform Tribute to Nipsey Hussle

Marsha Ambrosius, YG, and  DJ Khaled along with John Legend all came out to pay tribute to the late Nipsey Hussle roughly two months following the emcee's death in March 2019 for a performance of "Real Big," "Last Time I Checc'd" and "Higher" respectively.

Chris Brown pays a tearful tribute to Michael Jackson

During the 2010 BET Awards, Grammy award-winning singer Chris Brown broke down entirely during his musical tribute to the late Michael Jackson. Brown had been dealing with his idol's passing and the fallout from his personal controversy.