37th Annual Stellar Awards 2022: Pastor Mike Jr. Takes Home 'Male Artist of the Year'
The gospel singer's acceptance speech inspired us to keep pushing forward even when things seem difficult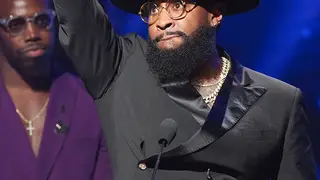 The Stellar Gospel Music Awards celebrated its 37th year honoring excellence in Gospel music during an uplifting weekend of events, concluding with the live-taped ceremony on Saturday, July 16, at Cobb Energy Performing Arts Centre in Atlanta Georgia.
Some of the biggest and brightest stars in the industry were honored, including Pastor Mike Jr,  who led the list of winners with a total of six Stellar Awards, including Artist of the Year, Male Artist of the Year, Contemporary Male Artist of the Year, Contemporary Album of the Year, and Urban/Inspirational Single or Performance of the Year, as well as Album of the Year for I Got It: Single's Ministry Vol. 1.
While accepting the trophy for Male Artist of the Year, the seasoned musician and pastor ditched his original speech and spoke from the heart.
Check out his whole speech down below.
"I had a speech planned, but as they were running the videos, I had a moment where my life kind of started flashing before my eyes: I'm sitting in a room with so many people who helped change my life. You know, being on the college campus and almost having an anxiety attack and listening to 'Something About the Name Jesus.' And while I was sitting there, I was just reminded of this story with my son. I took him on a boat, and a fisherman was teaching us how to catch lobster. And he grabbed this lobster, and right when I thought he was finna [going] to take it and kill it, he tagged it and threw it back.
And I asked him why didn't you kill that lobster. He said: 'Because I checked and it was pregnant.' So whenever you catch a pregnant lobster, you tag it. And I began to think about everybody in this room who been through some stuff and survived some stuff and you been frustrated because you been asking God why does it feel like every time I turn around I'm being tagged. I come to give you an announcement. 'It's because you're pregnant with something.'
Now I don't know who I'm preaching to tonight, but I'm grateful God didn't let me die because I was pregnant with a vision, and God sent me here to tell you get ready cause the rest of this year, he's about to let you give birth to what eyes have not seen, ears have not heard. Shout if you're pregnant with something. It is going to be big !"