37th Annual Stellar Awards: Legendary Producer Aaron Lindsey Receives the 'Aretha Franklin Icon' Award
The industry veteran is behind some of the biggest records in Gospel music.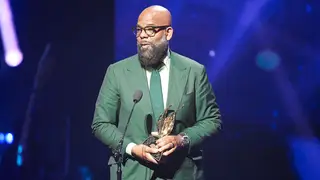 The 37th annual Stellar Awards honored legendary music producer Aaron Lindsey with the "Aretha Franklin Icon" award Presented by Aflac. The prestigious accolade is given to individuals in the music industry for their outstanding contributions to Gospel music.
Grammy Award-winning singer-songwriter Jonathan McReynolds introduced Lindsey as this year's award recipient before going on to share kind words about the musician who he described as "a key contributor to the greatest tracks of the last twenty years."
"This versatile writing and production wiz is known as Gospel's secret weapon. In fact, you can say that if were not for Aaron some of gospel's best and brightest, never would've made it, they never would've made," McReynold shared, putting his own spin to Marvin Sapp's 2007 smash single "Never Would've Made It" produced by the honoree.
Later, singers Brian Courteny Wilson, Koryn Hawthrone, and Sapp took the stage with an unforgettable performance of their popular Lindsey-produced tracks, including "Worth Fighting For," "Speak The Name," and "Never Would Have Made It," respectively.
Following the musical tribute, Lindsey humbly accepted his award. In his speech, the 50-year-old shared, "I could probably find a way to creative a narrative that suggests that in some way I had the ability create this and do this by myself, but I'm far too smart for that cause I know had it not been for the lord that was on my side." He added, "And I also realize that it's not by might not by power but is by God's spirit that we do this music that we do."
Lindsey  has been in the industry for over two decades but he's been surrounded by music all his life as the son of a Minister of Music and choir director. He's worked with many of the greats in gospel and mainstream music including Smokie Norful, Tasha Cobbs, Donnie McClurkin, Fred Hammond, Mary Mary and so many more. He also has produced and written for renowned R&B artists such as India Arie, Kenny Lattimore, Chrisette Michelle, and many others.
The Stellar Gospel Music Awards celebrated Gospel music with an uplifting weekend of events, concluding with the live-taped ceremony on Saturday, July 16, at Cobb Energy Performing Arts Centre in Atlanta, Georgia. The show was hosted by award winning singers, Jekalyn Carr and Kierra Sheard, and premiered on Sunday, August 7 at 8 PM ET/PT on BET, BET Her, and BET International.