Rev. Al Sharpton New Documentary 'Loudmouth" Premiers On BET On February 25
This poignant story showcases the life and work of the nation's most relentless pursuer of justice.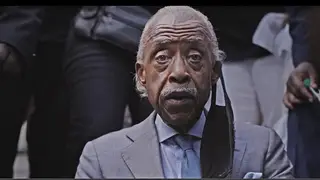 The life and work of civil rights veteran, Reverend Al Sharpton, comes to television during the Blackest month of the year as BET premieres a documentary that explores his storied and sometimes controversial legacy.
"Loudmouth," produced by John Legend's Get Lifted Film Co., chronicles the leader's life, mission, and storied tenure in the movement for social justice.
Featuring never-before-seen footage of Rev. Sharpton, the documentary takes viewers into his forays into the corridors of power and onto the front lines of the struggle for justice. "Loudmouth" is the depiction of a determined warrior who has never shied away from a fight in his quest to change the status quo, but with an intimacy and candor rarely seen.
"Loudmouth tells the story about how and why I had to be loud to call out the racism in a northern city like New York, where you were competing with the bright lights of Broadway," said Sharpton in a statement. "In this crucial year, when we are fighting for racial justice in the voting booth and in the streets, I hope this film will inspire the next generation of Loudmouths to get off the sidelines. I am excited for this film to make its television debut on BET, given its legacy of telling strong Black stories."
BET President and CEO, Scott Mills, said the network is delighted to bring such an important program to the air.
"We are proud to share with viewers the critically acclaimed documentary, 'Loudmouth,' that joins our expanding roster of 'Content For Change' programming and use of our massive platform to spotlight the legacy of civil rights giant Reverend Al Sharpton," said Mills.
The doc's writer, producer, and director, Josh Alexander, shared similar sentiments, explaining, "We are excited to work with the creative teams behind the film to bring viewers a thought-provoking story that encourages dialogue on equity and racial justice."
He continued, "Reverend Al Sharpton sits at the very heart of the battle over the national narrative around race. We are excited to have BET, who has been on the frontline of these efforts, program the cable premiere of this timely documentary."
Sharpton has dedicated his life to serving as a voice for the voiceless, speaking out against racial injustices, and highlighting the painful facts about the lasting effects of institutional racism in the United States.
Check out the official trailer of "Loudmouth" below:
LOUDMOUTH premiers on Saturday, February 25 at 4:30 p.m on BET, BET Her, VH1 and will stream on BET+ following the "54th NAACP Image Awards". The film can also be seen on Showtime at a later date.