Nick Cannon Shares A Sweet Photo Bonding With His Newborn Daughter, Baby Oynx!
Yet another adorable moment from a daddy-daughter duo.
1 / 228
Nick Cannon is enjoying quality time with his newborn daughter, Onyx. The proud dad welcomed baby Onyx with model Lanisha Cole last month. How sweet!
Photo by @nickcannon via Instagram
2 / 228
Lil Scrappy and his family are twinning in matching designer looks! The rapper recently posted this heartwarming family photo before heading out for a day of fun. Cuteness overload!
Photo by @reallilscrappy via Instagram
3 / 228
Lil Scrappy is giving his mom her flowers on her 59th birthday! The rapper recently took to Instagram to show love to Momma Dee with a heartfelt message. "I respect my mom and love her," he captioned a photo of himself spending quality time with his mom and daughter Emani. So sweet!
Photo by @reallilscrappy via Instagram
4 / 228
Marques Houston is a family man! The actor recently posted a loving photo with his wife Miya Houston and infant daughter Zara. "In love w/ my lil family," he happily captioned the post on Instagram.
Photo by @iammiyahouston via Instagram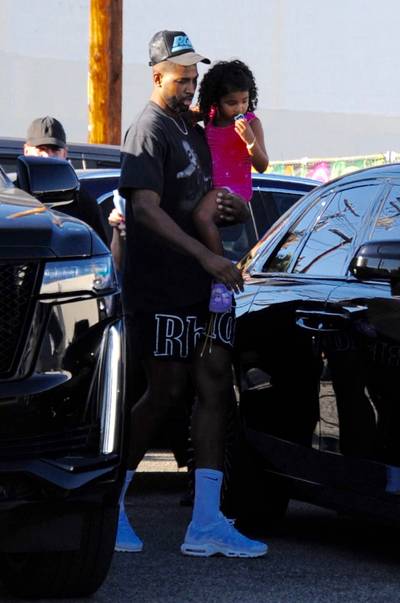 5 / 228
Tristan Thompson loves his baby girl! Weeks after news broke that the NBA star had welcomed a second child with Khloe Kardashian, the paparazzi snapped photos of Thompson taking their 4-year-old daughter True to dance class. Check out the sweet daddy-daughter photo!
Photo By
(Photo: SplashNews)
6 / 228
Usher Raymond is spending quality time with his baby girl Sovereign. The doting dad shared several photos on Instagram bonding with the adorable tot. 'Blessings,' read his Instagram caption. Usher is currently in Las Vegas for his sold-out Residency. We love to see it!
Photo by @usher via Instagram
7 / 228
Bill Bellamy wishes his daughter Bailey a happy 19th Birthday. The proud dad took to Instagram to share a sweet message. " Time flies and every moment was worth it. What a moment and celebration. It's such a cool age. Your last teenage year as you embark upon your twenties. We only wish you the best!
Photo by @billbellamy via Instagram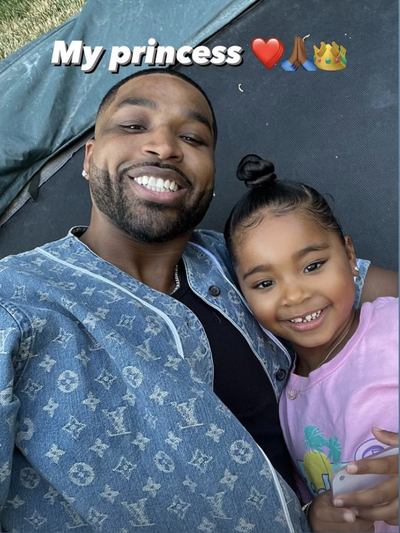 8 / 228
Tristan Thompson is back from his Greece vacation and is cuddled up with his daughter, True. The NBA is all smiles as he poses with his baby girl wearing a Louis Vuitton Baseball style shirt. Tristan is expecting a son with Khloe Kardashian via surrogate although it is reported that they are no longer together.
9 / 228
Chris Brown loves his baby girls! The singer-songwriter recently posted this heartwarming photo on his Instagram Stories, highlighting the unbreakable bond he shares with his daughters, Royalty Brown and baby Lovely Symphani. "My girls," he captioned the sweet snapshot.
Photo by @theybf_daily via Instagram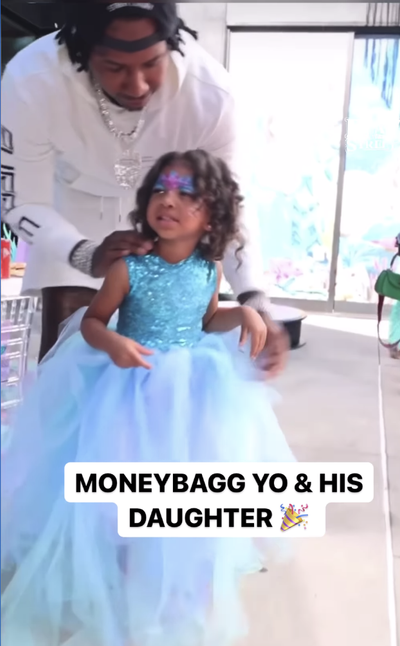 10 / 228
MoneyBagg Yo shares a sweet bonding moment with his adorable daughter, Spring at her 3rd birthday party. How cute!