Soul Train Awards 2023: 5 Uplifting Records by Erica Campbell That Will Inspire Your Spirit
Uncover the power of gospel music through these soul-stirring songs.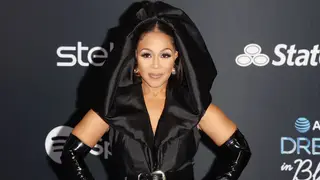 Erica Campbell has made indelible contributions to the world of gospel music. As one half of the dynamic duo Mary Mary, alongside her sister Tina Campbell, the singer has played a pivotal role in reshaping the landscape of contemporary gospel music. This year, the genre legend is for the "Best Gospel / Inspirational Award" at the upcoming "Soul Train Awards" 2023. She faces several icons in the industry, including Shirley Caesar, Kirk Franklin, Koryn Hawthorne, H.E.R., Fridayy, Maverick City Music, Chandler Moore, and Naomi. 
Ahead of the biggest celebration in R&B and soul music, we're revisiting some of Erica's most heavenly tunes that prove why she is a staple.
"Help" feat. Lecrae

Featuring gospel legend Lecrae, "Help" is a soul-stirring ballad that showcases Erica Campbell's exceptional vocal range.

"I Luh God"

"I Luh God" highlights Campbell's versatility as an artist, blending traditional gospel elements with a contemporary twist.

"A Little More Jesus"

This soulful track combines a gospel choir-backed chorus with Campbell's emotional delivery, making it a classic within her discography.

"The Question"

"The Question" finds Campbell exploring life's mysteries while offering a heartfelt message of hope.

"Well Done"

This heartfelt 2017 ballad is a record for the believers yearning to hear the words "Well Done" when they reach the heavens above.

"Soul Train Awards" 2023 premieres Sunday, November 26 at 8 p.m. ET/PT on BET and BET Her.