Soul Train Awards 2023: 5 Essential Tracks by Host Keke Palmer You Can't Miss
Discover the songs that define her musical career.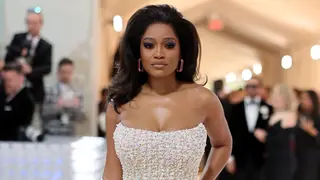 Emmy-nominated actress, singer, and doer of all things Keke Palmer has officially taken over hosting duties. The Hollywood veteran is leading the hugest house party and celebration of R&B and soul music for an evening you won't want to miss. Palmer is no stranger to the genre, having released several sultry records over her decade-long musical career. Ahead of this year's show, get into the soulful sounds of this year's host as we take a trip through her discography. 
"I Don't Belong To You"

The title track of her book, this song embodies empowerment and self-discovery. 

"Bossy"

Empowering and assertive, "Bossy" features a strong beat and empowering lyrics that showcase Palmer's confidence and independence. It became a fan favorite following its premiere on FOX's hit series "Empire."

"Wind Up" feat Quavo

Keke tapped Migos co-founder Quavo for this high energy-packed record, "Wind Up," which was released in 2017. 

"Better to Have Loved"

Keke explores the bittersweet aspects of love in her 2018 single, "Better to Have Loved." 

"Keep it Movin" feat. Big Meech

Keke made her musical introduction in 2007 with the single "Keep it Movin'" featuring Big Meech from her debut album "So, Uncool."

"Soul Train Awards" 2023 premieres Sunday, November 26 at 8 p.m. ET/PT on BET and BET Her.