Soul Train Awards 2022: Get To Know Atlanta Artist Baby Tate
The emcee gave a high-energy performance of her single 'Do Better.'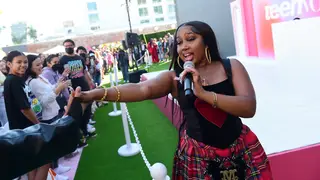 Rising rapper, singer, and songwriter Baby Tate dazzled fans at the 2022 Soul Train Awards pre-show performance presented by Spotify and hosted by veteran musician Tank.
The Atlanta native initially caught buzz with a cover of Nicki Minaj's 2019 "Megatron." Several tracks later, including a women's empowerment record that sparked a viral internal trend, eventually garnered her a record deal with actress, producer, and writer Issa Rae.
The pre-show also featured blazing performances and appearances by veteran r&b singer J. Holiday, breakout r&b group FLO, Vedo, and Soul Train Awards  nominee DIXSON. In honor of this year's event, get to know more about this year's performer, Baby Tate.
She comes from a musical family

Born Tate Sequoya Farris, Baby Tate is the daughter of soul singer Dionne Farris, best known for being a member of the 90s alternative hip-hop collective, Arrested Development. Her father is musician/producer David Ryan Harris. Although it is reported that Harris was relatively absent, Tate's mother always fully supported her child's creative ambitions.

She sparked an online challenge

Baby Tate released this self-love and women's empowerment anthem in 2020 from her EP After the Rain, which features fellow rising emcee Flo Milli.

The track quickly picked up on the short-form social media platform TikTok. Soon stars and fans were uploading videos of themselves rapping lyrics from the song.

Notable bar: I am healthy, I am wealthy, I am rich, I am that b—ch/I am gonna go get that bag and I am not gonna take your s—t.

She's signed to Issa Rae's record label Raedio

Roughly a year after garnering music listeners with her cover of Nicki Minaj's smash 2019 stand-alone single "Megatron," she announced she had signed a record deal with  Issa Rae under the Primetime Emmy-nominated actress and producer's Raedio record label. Two of Tate's songs were featured on the soundtrack for Issa's critically acclaimed HBO series Insecure.