Soul Train Awards 2023: Rediscovering the 90s Magic with 7 Iconic SWV Songs You Need to Hear Again!
Which one of these classics would you love to see performed at this year's celebration?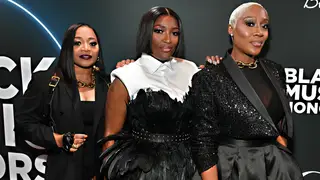 The 90s R&B era featured soulful melodies, smooth harmonies, and unforgettable beats, and SWV (Sisters With Voices) stood out as one of the most influential girl groups at the time.
The legendary trio Cheryl Gamble, Tamara George, and Leanne Lyons will grace the stage at the highly anticipated "Soul Train Awards" 2023. SWV, with their mesmerizing harmonies and timeless hits, for an unforgettable performance that R&B lovers won't want to miss.
As we approach this year's ceremony, let's take a nostalgic trip down memory lane and revisit seven iconic SWV songs that defined the 90s R&B era. Don't forget to tune in to this year's ceremony, which will air on Sunday, November 26, at 8 PM ET.
"You're Always on My Mind"

The song's vulnerability and passion made it a standout track on the group's 1992 debut album, "It's About Time."

"Use Your Heart"

The trio released "Use Your Heart" in 1996 from their second studio album, "New Beginning," further cementing their place in 90s R&B and soul music.

"Downtown"

"Downtown" infused a playful vibe into SWV's repertoire. The track's catchy lyrics and uptempo rhythm showcased the group's fun-loving side while maintaining their smooth sound.

"Rain"

The song's sensuality and sophistication have made it a favorite slow jam to this day.

"I'm So into You"

With its catchy chorus and energy, SWV's second single "I'm So Into You," from their debut album, showcased the ladies' ability to create a staple on radio airwaves.

"Right Here" (Human Nature Remix)

The smooth blend of their vocals with Michael Jackson's "Human Nature" melody set the tone for their signature sound.

"Weak"

Their most iconic song, "Weak," is a soul-stirring ballad that remains a timeless love anthem.

"Soul Train Awards" 2023 premieres Sunday, November 26 at 8 p.m. ET/PT on BET and BET Her