BET Awards 2023: Sexyy Red Talks Women in Rap, Nicki Minaj and Authenticity
The rapper details her unexpected breakthrough to the music industry.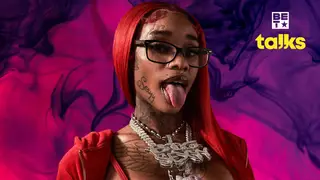 Janae Wherry, known as Sexyy Red, became an internet sensation earlier this year after the release of her explicitly honest track, "Pound Town," with producer Tay Keith in January. Her raunchy, raw lyrics quickly found their popularity on social media.
The St. Louis rapper released her first song "Ah Thousand Jugs" in 2018, followed by her debut mixtape Ghetto Superstar in 2021. BET spoke with Sexyy Red about her claim to fame and how her sexuality turned into stardom.
Along with her stumble into the music industry, she talks about collaborating with rap idol Nicki Minaj early in her career, as well as her insight on female rappers today. Sexyy Red describes her no-filter approach to music and what authenticity means to her.
See how the freestyling free-spirit is unapologetically herself in the video above.