Doritos and the PepsiCo Foundation Partner To Celebrate 16 Black Changemakers for Third Annual SOLID BLACK Initiative
Meet the 2023 class of innovators set to receive $50,000 each for driving the culture in their communities.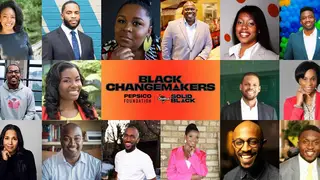 In 2021, Doritos created SOLID BLACK, an initiative that serves to acknowledge and celebrate Black leaders who Try Another Angle by using innovation and determination to move our culture forward. This year, in partnership with the PepsiCo Foundation, Doritos is supporting 16 Black Changemakers, who are challenging the status quo and are boldly making a difference in their communities and the country.
In its third year, SOLID BLACK continues to shine a light on our heroes and the work they do by awarding each organization a $50,000 grant from the PepsiCo Foundation. These Black leaders of nonprofit organizations will also receive personal and professional leadership development designed to strengthen their position as catalysts for positive changes within their communities. The Changemakers will also be showcased on the Doritos platform to garner more support for their causes. In fact, you've likely already seen the commercial spot highlighting some of this year's participants during culture's biggest night at the BET Awards.
Doritos stands by its mission to ignite boldness, inspire action, and celebrate diversity. In this vein, the brand plans to continue to expand on the SOLID BLACK mission, deepening the impact the initiative will have for years to come.
The 2023 class of Black Changemakers is the biggest class yet and includes men and women from across the nation using their expertise and passion to truly change the world.
Tony Alleyne, Delaware College Scholars, Wilmington, DE

For those Delaware students who may not understand what it takes to apply to college and then succeed once there, the Delaware College Scholars, founded by Dr. Tony Alleyne, walks with them side-by-side on their higher education journey. Alleyne, a former teacher, and admissions counselor, has created a program that focuses on both college prep and college persistence, for mostly first-generation college students. Delaware College Scholars begins the journey in the 10th grade and provides support for the next seven years until college graduation.

Candice Matthews Brackeen, Lightship Foundation, Cincinnati, OH

In her role as founder and CEO of the Lightship Foundation, Candice Matthews Brackeen has managed to influence state policy on economic inclusion. The Cincinnati, Ohio-based foundation seeks to assist underrepresented entrepreneurs as they work towards success by providing them with bootcamps that teach the nuances of networking and mentorship, and a curriculum that includes legal guidance, as well as feedback on their financials, branding, customer insight, and business model.

Van Brooks, Safe Alternative Foundation for Education, Inc., Baltimore, MD

Van Brooks had to deviate from a career as a professional football player, after breaking his neck during a game and losing his ability to walk at the age of 16. His dream of playing football shattered, and Brooks quickly realized how important it was to have a backup plan. Now the founder and executive director of Safe Alternative Foundation for Education, Inc., or SAFE, provides vocational training after school, on the weekend, and during the summer, to young people in Southwest Baltimore.

Antoinette Carroll, Creative Reaction Lab, St. Louis, MO

Antoinette Carroll founded Creative Reaction Lab in the wake of the Ferguson uprising in 2014, which saw Michael Brown fatally shot by a Missouri police officer. Her goal was to continue the dialogue and demand for change that her community so desperately needed. Today, as President and CEO of the nonprofit, Carroll empowers young people with the tools to redesign their world and challenge racial and health inequities that impact their community, through a process of creative problem solving called Equity-Centered Community Design. Carroll is teaching young leaders to create a future where equity is at the forefront of health, economic opportunities, and social and cultural solidarity.

Nikole Collins-Puri, TechBridge Girls, Oakland, CA

Nikole Collins-Puri, the CEO of TechBridge Girls, envisions a world where girls of color are empowered with the skills necessary to pursue a career in STEM. The organization equips educators and STEM professionals with equity training, proper gender responsiveness, and culturally relevant curricula. The organization gives them the ammunition needed to be a catalyst in paving a pathway that ensures an increase in BIPOC girls in tech.

Alvin Irby, Barbershop Books, New York, NY

Get a haircut and read a book. At least that's what early childhood educator Alvin Irby envisioned when he started dropping off books at various barbershops in his community, so that young Black children could begin to see the fun in reading. Irby's Barbershop Books is now a national literacy nonprofit organization that also assists educators in finding more culturally relevant content for kids in 5th grade and younger.

William Jackson, Ph.D., Village of Wisdom, Durham, NC

As Chief Dreamer of the Village of Wisdom, Dr. William Jackson works to protect the intellectual curiosity of Black children, while instilling in them a positive racial identity. Jackson's team provides a support system for Black students and their families who may have experienced levels of overt or subtle racism in the classroom. Since 2014, the organization has found ways to nurture these students through their Black Genius program, which works with local school leaders, parents, and teachers to transform these students into the future leaders of tomorrow.

Jessica Johnson, The Scholarship Academy, Atlanta, GA

With ever increasing tuition costs at colleges and universities across the country, finding a way to pay for a higher education has become an even trickier task for many pursuing a degree. After receiving over $200,000 in scholarships for her own education, Jessica Johnson, a Howard University graduate and Executive Director of The Scholarship Academy, has worked to get more than $40 million in private scholarships earmarked for more than 15,000 college-bound students from low-income households in several states.

Adrinda Kelly, BE NOLA, New Orleans, LA

As a former student in the New Orleans' public school system, Adrinda Kelly, understands firsthand the importance of supporting Black teachers with professional development and resources. Now, as Executive Director of BE NOLA, Kelly has made it her mission to work with Black-led schools to provide quality education that's both equitable and culturally affirming. She credits the Black educators who taught her as her inspiration.

Quardean Lewis-Allen, Youth Design Center, Brooklyn, NY

Quardean Lewis-Allen, Founder and Executive Director of Youth Design Center, created the creative agency and innovation hub to help young people in his native Brooklyn neighborhood and beyond have access to a future in STEM professions. Lewis-Allen has been working diligently for the past 10 years to find mentors who can teach these students about spatial and product design, coding, video and animation, and graphic design. Today, almost 1,000 students have gone through the rigorous, multi-year curriculum and developed skills that make them viable candidates for internships or employment.

Gabrielle Madison, Bonton Farms, Dallas, TX

Gabrielle Madison left corporate America behind last year to become the first-ever president of Bonton Farms, which provides an oft-neglected community with fresh food, financial education, and job training. After generating over $11 million from a recent fundraising campaign, Madison will guide Bonton Farms into the future, which includes plans to build an affordable housing apartment complex and a community health care facility. These next steps will bring the organization closer to their goal of combating racial injustice and systemic oppression.

Phil Olaleye, Next Generation Men & Women, Atlanta, GA

Some may know Phil Olaleye for his work as an Atlanta State Representative, but hundreds of students in the area know him for the work he does as the executive director of Next Generation Men & Women, an organization actively moving towards closing the gap for under-resourced Atlanta students who desire to go on to college. These students accrue more than 300 hours of career-building experiences that will undeniably broaden their horizons by visiting college campuses and local companies.

Marvin Pierre, Eight Million Stories, Houston, TX

 What happens when young people fall through the cracks? Marvin Pierre knows the answer to that question all too well, which is why the co-founder and executive director of Houston-based Eight Million Stories created the organization to work with disconnected youth who are no longer participating in the school system. Eight Million Stories is set up for those students who may not be doing well academically or socially in a traditional school setting and seeks to empower them as they find options that will keep them out of the juvenile justice system.

Glen Providence, Hebni Nutrition Consultants, Orlando, FL

Executive Director Glen Providence leads Hebni Nutrition Consultants, which was started in 1995 with three Black women registered dietitians, all concerned with the alarming rate of food-related diseases in high-risk communities. The company name (the Egyptian spelling of the word ebony) stands for Health Education through Behavioral and Nutritional Initiatives. Equipped with an 8-week course that provides healthy cooking classes, nutrition education that encourages eating more fruits and vegetables, and a Fresh Stop Bus that provides the participants with produce, and health screenings, the Florida-based nonprofit is well on its way towards making a significant difference in various communities of color.

Matt Stephenson, Code2College, Austin, TX

Matt Stephenson, CEO of Code2College, believes there are many underestimated students—mostly Black, Latinx, and girls—who, if given the chance, could excel in STEM careers. Stephenson and his team are closing the STEM opportunity gap by creating technical internship opportunities for high school students. And the results speak for themselves, because Code2College has found that students in their program are four times more likely to participate in high tech industries than the national average.

Jamila Trimuel, Ladies of Virtue, Chicago, IL

Jamila Trimuel can relate to the challenges faced by the Black girls who participate in the mentorship program she founded in 2011, having herself grown up on Chicago's Southeast side. Ladies of Virtue promotes moral excellence and strong character for girls 9 to 18, who receive instruction in culturally relevant character building and civic engagement, as well as leadership development and mental health support.