Behind The Beat: DJ Clark Kent is a Legendary Producer Extraordinaire and Master Connector
In this exclusive interview, delve into DJ Clark Kent's decades of influence, the essence of DJing, producing, and his everlasting impact on hip-hop.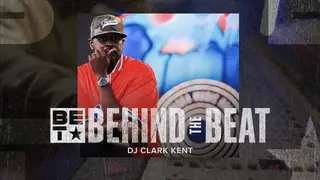 In hip-hop, few figures stand as tall as DJ Clark Kent. His decades-long journey within the culture has spanned the evolution of the genre and its intersections with various artistic expressions. Beyond being one of hip-hop's most iconic DJs and producers, he's also historically served as a master connector. He even mentioned moments speaking with legendary music executive Clarence Avant, who affirmed his approach to making connections.
"It was about understanding that connecting was important and that talent begets talent and knowing talent," said DJ Clark Kent to BET.com. "The thing is I was doing that before I learned those lessons from him, but it affirmed that I wasn't going crazy when I was thinking that I should introduce Jay-Z to Damon Dash."
Beyond bridging various cultural gaps, DJ Clark Kent's approach to DJing has always centered on leading with music. He underscored that the technical aspects of great DJs aren't their abilities, but their abilities as curators who take listeners on a musical journey. Kent focused on creating unique experiences for his audience, where the music became the focal point. That's what set him apart from simply playing radio hits in a live setting.
"I never thought to myself I got to be a better cutter and scratcher than the next guy," DJ Clark Kent explained. "No, it was that I have to be a better music guy and that's because I think music is the reason why we're here."
As pop culture celebrates hip hop becoming half a century old, DJ Clark Kent stresses that the role of the DJ within the culture is still what it was from its early beginnings. From DJ Kool Herc's parties in the recreation room of 1520 Sedgwick Avenue to now, the men and women on the ones-and-twos are the backbones of hip-hop.
"Our position is to do our best to make sure that what's happening and what people are hearing is good and represents our culture properly," said DJ Clark Kent. "A DJ's job is to curate so they have to sift through what's good, what's bad, what's not so good, what's not bad and figure out how to make it all work. But if we're the backbone to the culture, then we have to really work a lot harder to make sure that our culture doesn't go away because of so many things that aren't good."
That ability to always have his hands on the pulse of the culture has remained the same even as technology has evolved over the decades. Most recently, the pioneering DJ talked about his storied career with audio software company Serato on their Serato Unscripted podcast. It makes sense for DJ Clark Kent to sit down with podcast host and Serato Artist Relations and Product Specialist Matt Perry, considering his appreciation for popular DJ software Serato DJ. DJ Clark Kent even remembers being introduced to the software through DJ Mateo.
"I'm a little older so it felt like it was witchcraft to me," said DJ Clark Kent. "One day, Mateo, who was the opening DJ at this club says 'yo, come by my house. Let me really show it to you.' Once he showed it to me, that's when I decided, okay, I guess I could try to use it."
Though technology hasn't changed DJ Clark Kent's approach to DJing, he's well aware that DJ technology has introduced many people who think they can DJ. He believes that technology is making the craft much more accessible for people, and it can also be a detriment.
"Technology is making it somewhat easier to try to do but the problem is that it's really not that easy," said DJ Clark Kent. "Hopefully moving forward, people will be more serious about the actual craft instead of just the thought of 'oh I can make some money because I'm famous and I put DJ in front of my name and I have an iPod and I'm playing it inside of a club."
Curating music is one thing, making hits is another, and DJ Clark Kent has been one of hip hop's greatest producers since his breakout remix to Troop's "Spread My Wings'' which expertly sampled The Honey Drippers' "Impeach the President." That led to years of classic hit records with artists including Junior M.A.F.I.A., Jay Z, Notorious B.I.G., Mariah Carey, 50 Cent, Rick Ross, Kanye West, and dozens of others. For DJ Clark Kent, it was only natural.
"I was never just a DJ," said DJ Clark Kent. "As a DJ, when the music becomes extremely important to you, at some point, you might want to be one of the guys who makes the music. The love of music should guide you toward making. Once you start making, that's what happened."
For decades, DJ Clark Kent's journey embodies the creative, community-focus and empowerment spirit of hip hop. He's been DJing long enough to know when hip-hop wasn't even a term. The culture let his love for music express itself in a way that felt safe while being able to take care of his family. He understands that the seeds he helped plant gave hope to a whole generation and continues to do so till this very day.
"It's so much that this thing has given," said DJ Clark Kent. "This governing body of hip-hop has given back to people who really didn't have a lot of hope; out of a desperation for something that feels beautiful."