Soul Train Awards 2022: Who is J. Valentine? Meet the Platinum Selling Songwriter and Performer from This Year's Ceremony
The r&b crooner delivered a dynamic performance alongside music veteran Tank.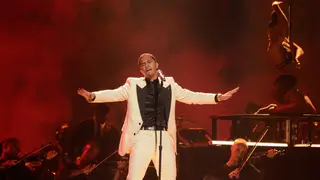 If you forgot to catch the Soul Train Awards 2022, you missed one of the industry's most show-stopping celebrations of soul and r&b. The night was hosted by actor and comedian Deon Cole who kept viewers cackling all night and featured several dazzling performances from several rising stars, including Ari Lennox, SiR, and Muni Long, and even some familiar faces such as r&b singer Tank, who swooned audience members with a sultry performance of his latest single "Slow."
However, the night got even steamer after platinum-selling songwriter J. Valentine joined the veteran musician. The California native got his start in music in the early 90s. He later began writing songs for some of the industry's biggest acts before releasing his own music.
In honor of this year's ceremony, we're looking back at yet another fantastic night in soul and r&b music and getting to know some of our performers and presenters better, including this year's guest performer, J. Valentine.
He once had hoop dreams

Growing up in California, J. Valentine, born Johnnie Newt, attended Balboa High School, where he played varsity basketball all four years and in the Amateur Athletic Union (AAU), where he played alongside former NBA players Deshawn Stevenson and Drew Gooden.

His love for music goes far past just writing

When the "Cry 4 U" singer was nine years old, he and his brother Bobby Newt formed the band The Newtrons. He founded the CityBoyZ Muzik label, signed hip-hop artist Bailey, and subsequently released the song "Go Dumb," which was initially a record from his Hide Ya Breezy mixtape. J. Valentine also has a production company, Song Dynasty, which includes his brother, his friend Texx and Tank.

He's written records for several Grammy Award-winning artist

Much like his brother in music, Tank, J. Valentine has written for several prominent artists in the industry. Some of the "Slow" singer's work includes Tyrese's "I Like Them Girls" from his second studio album 2000 Watts, "I'm Tyrna" and "I Get It In" by Omarion, "Regret" by LeToya Luckett from her sophomore album Lady Love, and plenty more.

He has a posthumous collaboration with rapper 2Pac

Following his death on September 13, 1996, the estate of rapper Tupac Shakur released seven, nearly double the amount before his unsolved shooting.  Among artists who held the honor of being featured on a track with the late emcee included J. Valentine, who provided vocals for a track titled "When I Get Free" from 2Pac's seventh studio album and third posthumous project, Until the End of Time.

The singer is also featured on a record titled "Thug Nature (2000)" from the collaborative album  Still I Rise from 2Pac and the Outlawz.

He's a podcast host

The crooner and Tank also host a weekly podcast called R&B Money, where the pair discuss R&B music and other topics with some of the genre's most prominent and rising musicians.