Soul Train Awards 2022: This Year's Female Performers Brought Powerhouse Vocals and a Surprise 'Plot Twist'
The ladies rocked the house performing classic hits and some of today's hottest tracks.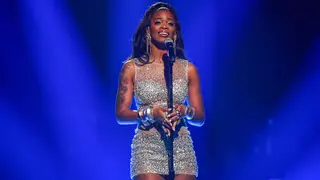 The ladies dominated this year's Soul Train Awards hosted by Deon Cole. From big wins to even bigger performances, the women of soul and r&b rocked the house with one dazzling performance after another. In honor of this year's event, we're looking back at some of our favorite female performances, from Ari Lennox's sultry performance to a soul cypher you'll be upset you missed. Take a look below.
Muni Long

Veteran singer and songwriter Muni Long started the night with an unforgettable performance featuring an all-star cast, including several familiar faces, including actress DC Young Fly, actresses Erica Ash and Paige Hurd, and actor and model Skyh Black.

Ari Lennox

D.C.-based r&b singer and songwriter Ari Lennox delivered a sultry rendition of her latest buzz-worthy record, "Waste Your Time," that viewers did not regret witnessing during this year's celebration of soul music.

Soul Cypher

This year's Soul Cypher was all about duality. This year's performers— Muni Long,  Durand Bernarr, Alex Vaughn, and Tasha Cobb Leonard--sang and rapped, making for a one-of-kind performance unlike ever before.