BET Awards 2022: Ella Mai Makes Her Return to the R&B Spotlight with These 5 Sultry Tracks
What's your favorite track from her new album "Heart on My Sleeve."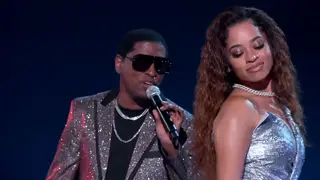 Nearly five years after the release of her self-titled debut studio album, singer-songwriter Ella Mai returned to the music scene with her sophomore studio album, Heart on My Sleeve. During this year's BET Awards 2022,  hosted by actress Taraji P. Henson, the UK star, gave an unforgettable performance of some of the songs featured on her latest project, and we have yet to stop thinking about it. If you didn't catch it, you truly missed out, but don't worry. We created a list of some of the featured songs and others from her latest album that we're sure you'll love. Check it out below.
"DFMU"

Ella is straightforward about what she expects in her relationship in this 808-laced ballad titled "Don't F-ck Me Up." Not afraid of hiding the fact that she's very apprehensive about this new love, Ella sings: "Such a risk, but I'm willin' to take a chance/ What you think with my heart sittin' in your hand/ Gotta learn how to let someone in to hold/ It take time, gotta trust who I let control."

"Not Another Love Song"

Ella initially released "Not Another Love Song" in 2020, marking the singer's first release since her debut self-titled album Ella Mai  2018. Co-written with songwriter Varren Wade, the singer gave a debut live performance of the track on Rihanna's Savage x Fenty Show Vol.2 in October.

"Pieces"

In this uptempo track, Ella sings about finding "safe love" with lyrics such as "Maybe it's 'cause we're just two fools / Broken by love / We know how to pick all the pieces up." This song has also received praise for its fine-tuned production.

"Leave You Alone"

Ella teamed up with frequent collaborator Varren Wade for this uptempo single "Leave You Alone." The song was produced by legendary record producer and songwriter Harmony David Samuels, who's behind some of the industry's biggest hits from artists such as Brandy, Mary J. Blige, Chris Brown, and many more.

"Fallen Angel"

Hearing the powerful words of gospel legend Kirk Franklin is the last person fans perhaps expected to hear at the end of an Ella Mai record, but it felt perfect. During an interview for the Grammys, the singer-songwriter gushed over the collaboration and revealed her connection to the church, not just as a singer but her grandmother was also a minister.