BET Awards 2022: Muni Longs Reveals She Hasn't Fully Watched Her BET Awards Performance
The singer-songwriter gave a dazzling performance of her singles "Time Machine" and "Hrs and Hrs" during this year's celebration.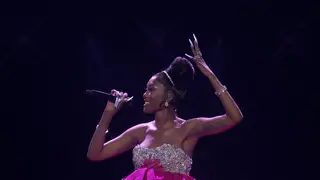 Veteran songwriter and rising solo artist Muni Long dazzled viewers with a stunning performance of her popular single "Time Machine" singer and viral hit track "Hrs and Hrs" at the BET Awards 2022 hosted by award-winning actress Taraji P. Henson. While many watched and reacted on social media, the 33-year-old rising star recently revealed that she hasn't watched her talk-about presentation.
While appearing on the latest episode of the People Every Day podcast, the up-and-coming star said, "I still have not watched the performance back because when you have on those in-ears, you can't hear anything; it's just completely silent other than the music in your voice."
Still, the Florida native noted that following the exciting showcase, during which she paid tribute to veteran singer and actress Lola Falana, her team informed her that "everyone was screaming the words, they were all singing with you."
The "Cartier" songstress shared that she's undecided on whether she ever wants to look back at her performance, citing that she's hesitant it will spoil the fairytale-like moment.
"I really want to see what that sounded like, but I had such a great experience and a beautiful memory of that night," she continued. "I don't want to ruin it by watching what actually happened." Muni ultimately admitted that she had watched the show but while it was on mute, noting that it's fulfilling enough for her.
Elsewhere, Muni gushed about her longtime dream of showcasing her talents on a major award stage as she recalled watching the various programs on the iconic network ", especially the BET Awards," she added, "So, to be like included, to be nominated, to be performing... I already won."
Born Priscilla Renea, Muni broke onto the scene thanks to her song "Hrs and Hrs" which became an instant on social media platforms like TikTok. However, before finding success as a singer, she garnered over 120 writing credits during her 15-year-long career collaborating with various artists, from the Pussycat Dolls to Chris Brown. Since then, she's released two studio albums, four EPS, and over two dozen singles.