BET Awards 2022: The Funniest Moments from Drake's 'Way 2 Sexy' Visual Featuring Future and Young Thug
How many pop culture references did you catch?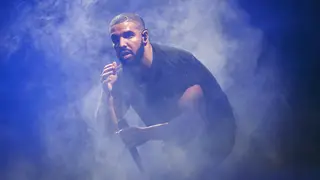 Drake dropped his visual for "Way 2 Sexy," featuring frequent collaborates rappers Future and Young Thug, last September, and it became an instant hit. In this Dave Meyers-directed visual, the Canadian emcee paid homage to some of pop culture's biggest moments and figures, including Michael Jackson and Prince. Since its release, the video has been viewed over 83 million times, earned Drake his tenth number one single, and snatched two nominations at the BET Awards 2022 for "Best Collaboration" and "Video of the Year." Ahead of this year's ceremony, hosted by the lovely Taraji P. Henson live at the Microsoft Theater in Los Angeles, CA, check out these five funniest moments from "Way 2 Sexy."
Kawhi Leonard cameo

Five-time All-Star and two-time NBA champion Kawhi Anthony Leonard, who's experienced the meme treatment on a few occasions, was spotted in all white alongside Drake, Future, and Thug recreating music videos from iconic boybands. The basketball player appeared to be confused by his involvement just as much as fans were.

Drake Channels MJ

Among the many pop culture references made in this video—and trust us there are tons—the "Gods Plan" rapper finds himself channeling his inner Michael Jackson via dance moves inspired by the legendary's singer's 1991 single "Black or White."

Future finds his inner Prince

In the visual, Future pays homage to musical icon Prince, wearing a an outfit similar to what he wore in in the 1992 video "Sexy MF."

Drake, Future, and Young Thug live their boyband dream

The guys pay homage to some of the biggest boybands including Boyz II Men's "Water Runs Dry" and Backstreet Boys' "I Want It That Way."

Young Thug models

Slim, as some refer to him, finds himself moonlighting as a calendar model as he poses as an angel for February and a lumberjack for October.

Tune in to the BET Awards 2022 Sunday, June 26 at 8 p.m. ET/PT on BET.