Wow: Nate Parker Gets Brutally Honest In New Interview About 1999 Rape Case
He explains his definition of the word "consent."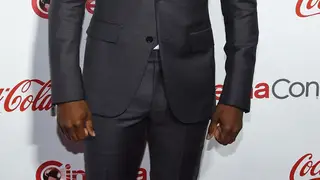 Nate Parker has spent majority of this August being haunted by a dark secret from his past. 
Throughout the duration of the press runs for his upcoming Oscar-buzzy film, Birth of a Nation, Parker has been in the hot seat forced to discuss what he has described was "a very painful moment in [his life]."
Back when he was a 19-year-old student, Parker, alongside his roommate Jean Celestin, faced allegations of rape, sexual assault, indecent assault and involuntary deviate sexual intercourse. Standing trail in 2001, the actor was acquitted and never charged. His accuser committed suicide in 2012.
This weekend, after weeks of being challenged on the subject and remaining silent for the most part, the actor participated in a very difficult, lengthy conversation regarding the situation.
In a new conversation with Ebony following a screening of his forthcoming film, the actor sat down for a one-on-one interview, his first with a Black media outlet on the subject.
During the interview, Parker discusses, in a brutally honest fashion, what he would tell his 19-year-old self now seventeen years later and what his definition of "consent" is, both now and back then.
When asked about what he, at age 19, knew about consent, the actor spoke very honestly, admitting it was a conversation he didn't really ever have at that point in his life.
"It wasn't a conversation people were having," Parker said. "When I think about 1999, I think about being a 19-year-old kid, and I think about my attitude and behavior just toward women with respect objectifying them. I never thought about consent as a definition, especially as I do now. I think the definitions of so many things have changed." He then went on to add that, "Consent is all about–for me, back then–if you can get a girl to say yes, you win."
Parker then addressed how the definition of consent changed for him with age, understanding and experience. 
"Back then, it felt like…I'll say this: at 19, if a woman said no, no meant no," he continued. "If she didn't say anything and she was open, and she was down, it was like how far can I go? If I touch her breast and she's down for me to touch her breast, cool. If I touch her lower, and she's down and she's not stopping me, cool. I'm going to kiss her or whatever. It was simply if a woman said no or pushed you away that was non-consent."
"Let me be the first to say, I can't remember ever having a conversation about the definition of consent when I was a kid," the actor said. "I knew that no meant no, but that's it. But, if she's down, if she's not saying no, if she's engaged–and I'm not talking about, just being clear, any specific situation, I'm just talking about in general."
From this point, he also added, "I'm 36-years-old and I'm learning about definitions that I should have known when I started having sex."
The conversation then shifted gears into discussing how he feels there is a 1999 lens and a 2016 lens, and how those two lenses to approach and talk about rape culture are different.
"Being a woman in 2016 is very different, imagine being a woman 20 years ago, and when we talk about consent, maybe 20 years from now we'll know things about consent and examine it from a different perspective than we are now," the actor said, while also discussing that he and his daughter talk about this sensitive topic together as well, although it is not an easy conversation to have.
"I'm a work in progress," the actor admitted. "I'm trying to be better. I feel remorse for all the women that are survivors that felt I was being insensitive because I was. And I want to have a better understanding of how I can be more of an ally, if they'll accept me. There will be people who won't accept me, and that's okay. All I can do is say that I stand for justice and really learn more about this issue so I can be a better ally of this issue."
Read Nate Parker's interview with Ebony in full here.