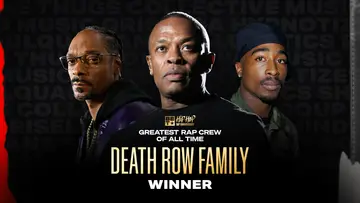 Greatest Rap Crew of All Time WINNER: Death Row
Death Row crowned Greatest Rap Crew of All Time! Snoop Dogg, Dr. Dre, 2Pac. The Lady of Rage, Tha Dogg Pound, RBX & family reign supreme. A legendary triumph!
HIP HOP 50TH ANNIVERSARY
BET celebrates Hip Hop's 50th Anniversary with a year-long tribute to Hip Hop's storied creation and the art form's sonic and cultural expansion. Highlighting the art and activism of Hip Hop, the taste making fashion of Hip Hop, and the trillion dollar ecosystem that is the business of Hip Hop - BET honors the art form's monumental impact.
ROUND 2 BATTLE ARTICLES - WEST COAST
ROUND 2 BATTLE ARTICLES - EAST COAST & MIDWEST
BATTLE ARTICLES - DIRTY SOUTH
BATTLE ARTICLES - WEST COAST
BATTLE ARTICLES - MIDWEST
BATTLE ARTICLES - EAST COAST