Obama Taps African-American to Head Homeland Security
President Obama nominates former Pentagon lawyer Jeh Johnson to become the next secretary of Homeland Security.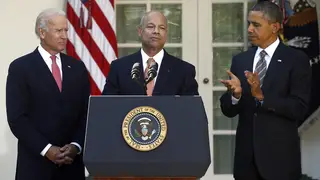 President Obama today nominated former Defense Department lawyer Jeh Johnson to become the next Department of Homeland Security secretary. DHS, the administration's third-largest department, has been without a leader since former Secretary Janet Napolitano left to head the University of California.
"Jeh has a deep understanding of the threats and challenges facing the United States.  As the Pentagon's top lawyer, he helped design and implement many of the policies that have kept our country safe, including our success in dismantling the core of al Qaeda and the Fatah," said Obama during the Rose Garden announcement.
He also said Johnson is a "cool and calm leader" and that he "knows how to get folks who don't always agree to work towards a common goal."
Johnson, whose first name is pronounced "Jay," is a graduate of Morehouse College and Columbia Law School. A veteran of the Clinton administration, he is credited with co-leading the Pentagon review and report that led to the repeal of "Don't Ask, Don't Tell" in 2010 and helping the administration develop counter-terrorism policies. When not working in government, Johnson, who was previously an assistant U.S. attorney in the Southern District of New York, has been a successful private practice attorney.
"I was not looking for this opportunity -- I had left government at the end of last year and was settling back into private life and private law practice," he said. "But when I received the call, I could not refuse it."
If confirmed by the Senate, he would be the first African-American to lead DHS.
Michigan Rep. John Conyers, ranking Democrat on the House Judiciary Committee, applauded the nomination.
"Mr. Johnson has had a brilliant legal career in private practice, working as a civil and criminal trial lawyer on notable commercial cases," Conyers said in a statement.
BET Politics - Your source for the latest news, photos and videos illuminating key issues and personalities in African-American political life, plus commentary from some of our liveliest voices. Click here to subscribe to our newsletter.

(Photo: AP Photo/Charles Dharapak)