EXCLUSIVE: Artist Terrace Martin Drops New Album 'Drones' As A Love Letter To Crenshaw
The Grammy-winning everyman talks to BET.com about the project and why he prefers to lead all things with love.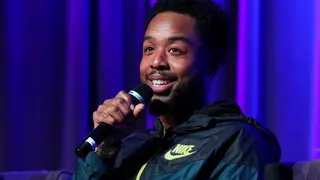 It has been a full week since Terrace Martin's latest studio album Drones has been in the world and, to be frank, the world is better off with it in rotation. That is because lately there's been a prevailing sense of coldness and emptiness that has permeated the culture. The idea that people are being controlled by the things we keep closest at hand — think in terms of those devices that attempt to teach us how to feel. Martin's latest Sounds of Crenshaw record is coalesced around that idea, inspired from a six-year, post-To Pimp A Butterfly conversation with Kendrick Lamar, and built to fill the void that our current climate finds us in.
Drones, a star-studded release, includes appearances from frequent collaborators like the Pulitzer Prize-winning Lamar, James Fauntleroy, Smino, Snoop Dogg, and Ty Dolla $ign, as well as a slew of new voices such as Channel Tres, Cordae, Celeste, and Leon Bridges. For Martin, a child prodigy, the son of Ernest "Curly" Martin, a jazz drummer and a singing mother, is a prominent member of the L.A. jazz scene. It is where he connects to the community which has become a foundational aspect of his life and thus reflected in his music. It guides you to a place of warmth and love with lush grooves that sound like a 70-degree day at your neighborhood block party.
Martin's new work is rooted in the Crenshaw District and the historical Leimert Park Village. For it is there, the home turf, that serves as the purpose that he pours into Drones, proving that music has the power to find beauty even when things seem dire. In an exclusive two-part chat with the Grammy Award-winning multi-hyphenate, Martin talks about leading with love and turning Drones into a sonic love letter to his hometown and shares a retrospective look at Kendrick Lamar ahead of his Day N Vegas performance (Nov. 12) on the Las Vegas Strip.
---
BET.com: For the longest time, I used to blow up your Instagram comments section, asking, 'Where's Drones at?!' How does it feel to finally have it out in the world? 
Terrace Martin: I know, I know. What really took the longest was for me to feel good about the music that I was doing for myself. I just wasn't feeling good about it at first.  
Terrace Martin: This whole idea started about five, six years ago with myself, Kendrick [Lamar], and Punch, off of conversations we were having. We all felt like the phone and the internet was draining our sense of truth, our sense of compassion, our sense of love, our sense of trust, and our sense of feeling.   
We were talking about how it is so draining to where now the lie is the new truth, which affects our perception these days. This whole project, Drones, is about the relationship between ourselves, the computer, and any outside things that don't help us deal with what's going on inside.   
It is within those conversations where we feel like we're on our mission, which is to help restore honest feelings, love, trust, and go back to certain things that have been taken away from us just as human beings. It took so long to do it because the environment kept changing. But what really kicked in, for me, was acknowledging that I wasn't happy with the music I was doing for years. I was giving other artists my all, but not myself. So, when the pandemic happened, I dug deeper inside myself and discovered a higher level of understanding for myself.   
Once I trusted myself more as a human, focused on being a better father, a better lover, a better friend, it was then when the other s**t came together. I started hearing music in a different way and was able to come up with songs that explore how we feel about the multiple facets of life, which became Drones.
BET.com: It sounds like that circle of trust between you all was the battery that powered your 2020 run of projects like Synthesize and Soul Juice. How did those efforts inform what would eventually become Drones? 
Terrace Martin: Dropping all of those projects last year was how I dealt with the pandemic. It was how I dealt with seeing my brothers and sisters being hunted down by the police on my phone. Those projects were how I dealt with that. I couldn't scream loud enough, so my voice is powered through my music. It was therapy for me and by the time I went back to Drones I was settled. My mind and heart were clear, and I was ready to become a true vessel and let the biggest ego in the room be the music.
BET.com: At that level of productivity, it was really refreshing to see you taking time out to get your creativity off. You've done a lot of work for others, as you said, and in taking time out to develop Drones, it felt as if you were crafting something inspirational for yourself and others cut from a similar cloth. With that, all said, it goes without saying that this new album is a direct love letter to the Crenshaw District and to Leimert Park Village?  
Terrace Martin: Oh, yeah! I'm from the Crenshaw District and it is a love letter to them. It's a love letter to anybody that grew up the same way we did. I don't believe in rich or poor, I believe in the spirit. We all grow up struggling in some way, and so, with Drones, it is a letter to my village and to everybody else that understands what community is and leads with love in their life.

If you understand love, it doesn't matter what color you are or what political party you represent. This album will relate to you based on that. And if you don't understand love and you're trying to get onto a path of love, then this is for you. For me, Leimert Park and the Crenshaw District is my battery charger. That's where my ideas stem from, that's where my love is rooted. It's a very sacred place and those lessons I've learned I've taken around the world.
BET.com: Day N Vegas starts today (Nov. 12) and serves as a retrospective for Kendrick Lamar as he'll be performing songs from Section.80 to DAMN. As someone who has been involved in a lot of those projects and powerful records — what do you think about when you look back at how far his career has come? 
Terrace Martin: I'm proud, man. I'm proud to know him, to be a part of his creative journey. I'm happy having a part of making a lot of money with him [laughs]. It's good to do business with your friends and when you love each other to a high level, it's a good feeling to know that we could create real estate for our children off of something that we dreamed about doing together. I'm just sincerely happy and blessed that God put him on earth.
The whole TDE [Top Dawg Entertainment] is family. We protected each other through this whole process. Top [Dawg], Punch, and Dave [Free] put this thing together, stirred that sh*t up, and became real-life superheroes, man. They were able to steer lives in positive directions. These cats created a pot of love and with seasoning and patience, watch that m*****f****r boil to the top. And that's something to be congratulated. 
Kudos to them, kudos to Kendrick, and bless them all for being able to even do that for all of us.
Drones is now available on all digital streaming platforms.
Kevin L. Clark is a screenwriter and entertainment director for BET Digital, who covers the intersection of music, film, pop culture, and social justice. Follow him on Twitter @KevitoClark.