Mona Scott-Young on Her New Film 'Love And Murder' and What it Takes to be a Mogul
From hip-hop manager to mogul producer, Mona Scott-Young talks about 'Love & Murder,' and the everlasting impact of hip-hop at 50.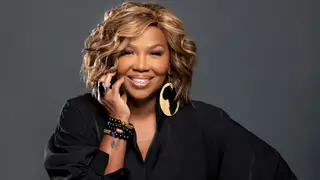 Very few have had an imprint and influence upon Black entertainment like Mona Scott-Young. For over a decade, she has been one of the most successful content creators on television. Scott-Young launched her career in 1996 as manager and co-founder of Violator with the late Christ Lighty, where she helped guide the careers of Missy Elliot, LL Cool J, Busta Rhymes, 50 Cent, The Trackmasters, and countless others.
Under the umbrella of her own television production company, Monami Productions, she forever changed the game with "Love and Hip Hop" in 2011, which remains one of the most popular reality show series on television with numerous spinoffs. The series also launched the music careers of Cardi B and K. Michelle.
For her latest project, she is executive producing "Love and Murder: Atlanta Playboy," a two-part film airing on BET +. Based on the book Redbone: Money, Malice, and Murder in Atlanta by Ron Stodghill, the film chronicles the life of Lance Herndon, a successful businessman and a notorious womanizer played by Taye Diggs, who's found murdered in his bedroom, leaving a long list of enemies who could be potential suspects. Part one is currently streaming, and part two premieres Thursday(September 26).  Rounding out the cast are Keesha Sharp, Apryl Jones, Yung Joc, Karlie Redd, Yandy Smith, and more.
BET.com caught up with Scott-Young and spoke about making Love And Murder, the importance of celebrating Hip Hop 50, and her rise to mogul status as a Black woman in the industry.
Before her enormous success in TV and film, Scott-Young had her hand on the pulse of Hip Hop as she worked with some of the most renowned artists of the culture. In honor of Hip Hop 50, she hopes that the momentum created will continue and those who have contributed to what is regarded as the most celebrated cultural expression across the globe will receive their long overdue flowers.
"Seeing all of the celebrations that are happening, all of the reconnections, and seeing all of the artists that were foundational to this culture and business of Hip Hop get their props and being acknowledged has been amazing," Scott-Young said. "I'm hoping that it is just not a flash-in-the-pan moment that we're experiencing and that it continues. Many people said that Hip Hop was going to last, but we're still here alive and kicking. I think to continue to encourage future generations, you have to keep celebrating and propping the culture up."
Although she is hesitant to refer to herself as a mogul, without question, Scott-Young is the embodiment of a content creator who has been telling stories on the largest scale. With the Love and Hip Hop franchise alone, Scott-Young has launched four spin-offs and has had 485 original episodes and counting aired, which is a remarkable feat. She explained what is the fuel behind her meteoric rise as an executive.
"I will say that at the heart of everything that I do is that first, I'm a manager. I see these pieces, and Iunderstand how to put the pieces together to create a full picture and then deliver. I think I did that as a manager in music and I think I bring that same skill set and that same thought process to what I do in producing, whether that's unscripted or now in the scripted space," Scott-Young explained. "So I've always considered it a blessing to be able to do it in different industries. To start began in music, then to transition into television, and now trying to make that same impact and have a footprint in scripted space."
While the "Love and Hip Hop" franchise is going strong, Scott-Young is well-equipped to duplicate her success with scripted content. In 2021, she released her first B-Boy Blues, an adaptation of James Earl Handy's novel B-Boy Blues: A Seriously Sexy, Fiercely Funny, Black-on-Black Love Story in partnership with BET +. She spoke about how that project opened the door to developing "Love and Murder" and to work with BET on another project.
"Lorisa Bates has been incredible and champions this kind of content. She wanted to do something that was set in the passion, thriller space, that would take the audience on a ride.," she said. 'This was an actual project from a book that they came across and they wanted to develop it into a film. What I loved about it is it had all of the elements of a " who done it."
"Lance Herndon was not only one of the first Black tech entrepreneurs in Atlanta with this big personality and a local celebrity but he was this notorious ladies' man. He had gone through these relationships and pissed off so many people, both on a personal and business front, that although you kind of know where the story ends, it's still an interesting exploration of his life," she continued. "I think that the way the story was told and of course, with Taye Diggs and Keesha Sharp's delivery of those main characters, they were dead on and they brought humor to it. They also brought an aesthetic to the screen that makes the project something different.
The cast of "Love and Murder" makes the project such a compelling film Scott-Young shared. After Diggs agreed to be a part of the film, the rest of the cast fell into place.  She also wanted to showcase some of the cast members from Love and Hip Hop in a different light throughout the film.
"When we started talking about casting, it was just kind of a pie in the sky and a dream if we could get Taye Diggs to take this role on. Once we had him, which we couldn't believe at first, he was such a magnet for talent because he's such a prolific actor and so many people want to work with him, "Scott-Young said. "For me, I've always felt that the talent on the Love and Hip Hop franchises is incredible in terms of their ability to do other things. When you look at Karlie Redd and Young Joc who is such a comedian who just happens to be a musician. I think he's so multi-talented. Also, we have Yandy Smith and we wanted to be able to find roles to populate them throughout the movie. I think the cast did an incredible job and they delivered on the story."
In addition to the characters, Scott-Young said that the city of Atlanta is one of the film's characters. The story conveys the ambition and the hustler mentality that the "ATL" is known for.
"I love Atlanta. I think it's such an incredible cultural hotbed. There's so much there with classic culture of Atlanta, but then with the people who come into Atlanta and what they bring to the city," Scott-Young said. "It feels like the ultimate hustler city where the people are trying to make it at all costs.  When we look at Lance's story of being one of the first African Americans in tech and what he was doing to revolutionize the 911 system, he had all of that ambition and I think that speaks so well to the Black community of Atlanta. There is this "do or die," "make it or break it,", and "get rich or die trying" type of mentality that exists there and I love it."
Full of suprises, "Love and Murder" will leave viewers on the edge of their seats as they follow the life of Lance Herndon and all the characters that comprise this wild story.
"I want those who watch the film to feel like they've been on an incredible journey and that they've been transported to this time period and seeing this man's life through this lens. I know he would have made an amazing reality television show character because his life was such a movie itself [Laughs]. I also want them to appreciate this genre of passion thrillers and that they'll get an appetite for. It will allow us to do more of these kinds of projects. So what I'm hoping is that under this "Love and Murder" banner is that we create this IP that we're able to tell other stories under. So, hopefully, this is the first of a series of movies," she said.