Lizzo Promptly Apologizes And Redirects After Using 'Ableist Language' In Single 'GRRRLS'
The 34-year-old singer is always one for doing the work.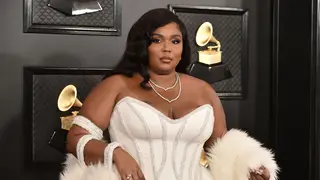 Lizzo promptly recognized the error of her ways and made up for it after being called out for using the ableist slur "spaz" in her new single "GRRRLS" over the weekend.
One disabled woman using the handle Hannah Diviney, in particular, tagged the singer to inform her how using the word was offensive and hurtful.
"Hey, @lizzo, my disability, Cerebral Palsy, is literally classified as Spastic Diplegia (where spasticity refers to unending painful tightness in my legs). Your new song makes me pretty angry + sad. 'Spaz' doesn't mean freaked out or crazy. It's an ableist slur. It's 2022. Do better."
In a tweet she shared on Monday (June 13), Lizzo apologized for the faux pas after being dragged on the social media platform. The "Truth Hurts" singer also removed the problematic word from her track.
"It's been brought to my attention that there is a harmful word in my new song 'GRRRLS.' Let me make one thing clear: I never want to promote derogatory language."
She continued, "As a fat Black woman in America, I've had many hurtful words used against me, so I overstand the power words can have (whether intentionally or, in my case, unintentionally). I'm proud to say there's a new version of GRRRLS with a lyric change. This is the result of me listening and taking action. As an influential artist, I'm dedicated to being part of the change I've been waiting to see in the world."
"GRRRLS," which sampled The Beastie Boys' 1986 hit "Girls," is the second track from her sophomore album "Special."
The lyrics in question said, "Hold my bag, b*tch, Hold my bag/ Do you see this sh*t?/I'm a sp-z/I'm about to knock somebody out/ Yo, where my best friend?/ She the only one I know to talk me off the deep end."
Lizzo's conscious effort to "do better" should be applauded and serves as a lesson on how to swiftly redirect when needed.