Magoo: Hip Hop's Understated Legend Who Chose Privacy Over Limelight
In an interview with BET, close friend Larry "Live" Lyons says Magoo was more concerned with making something of himself than being the best rapper.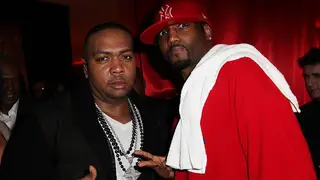 In 1996, Timbaland graced the world with his unique melodies and distinctive drum beats, leaving a mark with R&B hits like Aaliyah's "One In A Million" and Ginuwine's "The Bachelor." By 1997, his influence in hip-hop began to emerge, notably with his production on Missy Elliott's iconic "Supa Dupa Fly" and later with "Welcome To Our World," a collaboration with his longtime friend, Melvin "Magoo" Barcliff. Contrary to popular belief, Magoo's stage name wasn't derived from the famous cartoon character. Instead, it was a tribute to his mother, Magaleine. The added "o"s symbolized the awe he believed listeners would feel upon hearing his music, a sentiment his close associate, Larry "Live" Lyons, shared.
"Going back to high school he was a real friendly dude, real nice and humble," said Lyons. "He also would tell you the truth. He wasn't the type of guy that didn't know other ways to talk to others with the truth. So if the truth hurt, he was unapologetic about it but that's the only way he knew how to communicate."
Meeting Magoo in high school, Lyons would later introduce him to DJ Timmy Tim, a.k.a. Timbaland. By the time they were all teenagers, they would all form Surrounded By Idiots with another kid from the area named Pharrell. Years later, Magoo and Timbaland would be part of the DeVante Swing-led collective Swing Mob with Missy, Ginuwine, and Tweet, among others. Magoo would be featured on Jodeci's "What About Us" Swing Mob remix and later on  Ginuwine... the Bachelor track "G Thang" alongside Missy.
When Welcome To Our World's lead single, "Up Jumps da Boogie," featuring Missy and Aaliyah, dropped, he made a star-turning verse on 702-assisted Supa Dupa Fly single "Beep Me 911" months prior. The debut album of Timbaland & Magoo managed to go platinum as the duo would drop two more albums, including 2001's Indecent Proposal and Under Construction II in 2003. Magoo would make sporadic guest appearances, including his final guest verse on Timbaland's 2007 second studio album Shock Value on the track "Boardmeeting."
Lyons mentioned that Magoo spent his last years working behind the scenes through a production company cultivating producers like Hannon Lane, who co-produced Rihanna's Good Girl Gone Bad single "Rehab" with Timbaland, alongside working in real estate. The reason was simple; he just wanted privacy.
"Once those real estate checks started building in, it was a perfect opportunity for him to disappear," said Lyons, who ended up being an A&R with artists including Bubba Sparxxx and producer Danja. "He still had money in his pocket and really didn't have to deal with a whole bunch of the attention."
In one of his last interviews with YouKnowIGotSoul, Magoo talked about being disillusioned with the idea of being a celebrity and disappearing from the limelight after getting free food in a drive-through.
"It was a wake up call because fame shows you what's good and terrible about us," said Magoo in the interview. "We treat people that are famous better than people that actually need help. They'll give a millionaire food and walk right over a homeless person. I never dreamed about being famous. I just wanted to make the songs. I didn't think about the money or fame. I wanted to have a song on the radio like my heroes and I wanted to work real hard at it. Was I successful? Yes, but there's a difference between happiness and success. Success is when you get what you ask for whereas happiness is when you like what you get. I don't think Missy and Timbaland even know how I felt, but I didn't like being around the entertainment industry because it had an opportunity to bring positivity, but brought more negativity into people's lives."
Though Magoo's delivery and rhymes are divisive in core hip-hop circles,  Lyons explained that he wasn't concerned with being a number-one rapper or popular.
"It was about making something out of ourselves," said Lyons. "Let's try to make something of ourselves so we don't have to go back to working at the grocery store, McDonald or the shoe store."