Michelle Obama's New Liberated Looks Remind Us Why She is A Fashion Icon
The former First Lady's "The Light We Carry," book tour style has been turning heads.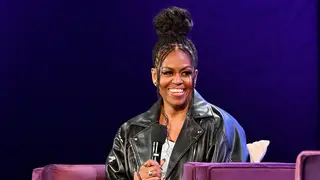 We all remember those cool classic looks that helped shape former First Lady Michelle Obama into the fashion icon she is today. From President Joe Biden's inauguration, where she blew everyone away with her stylish plum-colored turtleneck, flared pants, and oversized belt, or when she wore the iconic lime color custom Isabel Toledo dress and coat at the Inaugural parade in 2009, Mrs. Obama has always had a style all her own.
She has been the face of elegance and class while staying in tune with the modern looks of today. Most recently, the author and mom of two has been on her book tour promoting, "The Light We Carry: Overcoming in Uncertain Times", and her fits have been on point but also been a switch up making us think we need to up our style game.
Here are some of her most fashionable moments on tour so far.
Former First Lady embraces 90s track star vibes

Mrs. Obama took Atlanta by storm during her book tour, showing off one of her most stylish fits. This back stage look gives just the right amount of track star and 90s chic. Her FILA jacket and pants matched well with a turquoise stretch cotton bodysuit and classic black booties. And to top it off, the former First Lady wore box braids with loose ends with half of her hair in a puffy bun. Yes, to this all day long!

Nobody does leather like Mrs. Obama

Mrs. Obama then hit the stage in Atlanta in a rebellious iconic leather attire, a leather biker jacket paired with matching leather flared pants and a white tank top. And to top it all off, she wore pointy-heeled black booties with rhinestones along the sides. 

The queen of denim on denim

While in Washington DC, one of the outfits the former First Lady rocked was a fabulous denim look, showing once again how chic flared pants can rock especially when paired with cabernet pointy-heeled boots. Her denim jacket and matching pants are reminiscent of Britney Spears and Justin Timberlake's iconic denim red carpet look in 2001, but this time around, the look is crisper and sleek.

Blue rules the day

In Philly, Mrs. Obama turned heads in a bright blue collared suit and sunshine-bright yellow heels with gold hoops. She pulled her hair into a bun, making her whole ensemble pop even more. 

Crystal ball beautiful

Who could forget Obama's glamorous, shimmery ensemble while promoting her book on the Late Show with Stephen Colbert? The fashionable first lady rocked a sparkling gold turtleneck with wide-leg cream trousers and sandals. No one quite does late-night show chic like her. 

All things bright and beautiful

While promoting her book on TODAY with Hoda and Jenna, Mrs. Obama took our breath away in a neon yellow suit and matching heels. Her ensemble was the perfect amount of vibrant, chic, and classy. 

Mrs. Obama takes over in Versace

Back in DC, Mrs. Obama was all smiles in an elegant Versace tunic with red flared pants, and complementary booties. The ensemble is the perfect amount of effortless cool and once again shows that the former First Lady is a woman who takes risks and usually hits the jackpot. 

"The Light We Carry: Overcoming in Uncertain Times," a collection of personal and powerful essays, is Michelle Obama's second book.