50 Cent Recalls Being Poor In Reminiscing Social Media Post
"Music is magic," the Queens rapper says.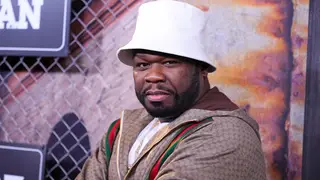 50 Cent is reflecting on his early life when he didn't have a dollar to his name.
In an Instagram post on Monday (November 6), the Queens rapper posted a throwback photo of himself looking at some sort of musical equipment, In the caption, he noted how far he's come.
"This is what it looks like when you have nothing and you fall in love with something," he wrote. "Music is magic people don't agree on anything but when the right music comes on they agree to have a good time."
50 Cent's story from rags to riches is well-documented. His mother was murdered when he was a child while his father was not in his life. His grandparents raised him, but that was also not without its problems.
Years later, Fif became a highly successful rapper, showrunner, and entrepreneur. He's sold over 30 million albums worldwide and won several awards, including four BET Awards, a Primetime Emmy, and more.