'Saint X' Star Josh Bonzie Unpacks How 'Blame a Black Man' Syndrome Impacts the Murder Mystery
The actor also shares how he had to check his privilege while filming in the Dominican Republic.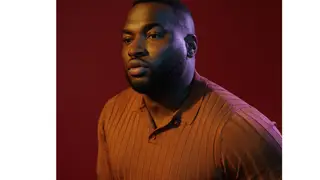 It's a story Black folks know all too well: a young, pretty privileged white woman goes missing or is found dead and, if she had any contact with Black men (even imaginary!) Black men immediately become the main suspects. "Blame a Black Man Syndrome" is a real, often devastating phenomenon that criminalizes Black men just for existing––a pervasive problem we've seen repeatedly in the news and in our timelines. On Hulu's Saint X, we see it play out in a scripted TV show that examines how prejudices can cause several lives to unravel; in it, Josh Bonzie plays Gogo, a gentle giant of a man who works at a Caribbean resort and has his life turned upside down when suspected of killing a white woman.
"It was very personal to me because I knew exactly how a man like this would be perceived by the world and how he's treated," says Bonzie, who, at 6'2, has the stature of an athlete (he played basketball growing up in Norman, OK) yet speaks with the grace of a poet, thanks in part to studying drama at University of Oklahoma. He knows firsthand how Gogo is greeted with suspicion because of how he looks because he's experienced it himself. "When you see [Gogo] people think, 'Oh, this guy's big, he's violent.' And actually, he's none of those things at all."
Saint X, an adaptation of Alexis Schaitkin's 2020 novel, takes place across two timelines. In the first, the white middle-class Thompson family arrives at Saint X, an all-inclusive resort on an unnamed Caribbean island. There's mom, Mia, (Betsy Brandt); Dad Bill (Michael Park); and their two daughters, college student Alison (West Duchovny) and 7-year-old Claire (Kenlee Anaya Townsend). Saint X makes its intention to provide commentary straight out of the gate: when we meet them in the first episode, Alison is not-subtly ribbing her parents for being entitled rich white people on holiday disrupting the local culture, yet it's not long before she is flirty with the young Black men on the resort's staff, including Gogo (Josh Bonzie) and his ethically ambiguous best friend Edwin (Jayden Elijah).
While we know from the jump that Alison is discovered dead, we don't know how, and that's the focus of the other storyline: relatively recent/modern-day Brooklyn, where grown-up Claire now lives, going by the name Emily (Alycia Debnam-Carey). One day, she runs into Gogo, now going by Clive, and Emily becomes obsessed with Clive/Gogo to find out what really happened to her sister Alison. A part cat-and-mouse game, part murder mystery, and part morality play, Saint X sustains tension over eight episodes as it keeps us guessing about what exactly happened to Alison while following Emily/Clair as she gradually worms her way into an unsuspecting Clive's life in search of answers. Toggling between past and present, Saint X swirls together Alison's liberal white-girl naivete, the actual lives of the Black people on the island when they're not at the resort, and the tendency to suspect Black men first to create a compelling story with no easy answers.
For Bonzie, shooting Saint X meant being sequestered on an actual resort in the Dominican Republic for over five months. That experience required him to spend much time with his (white) co-stars and reckon with his privilege since he was, in effect, a middle-class American tourist relying on the labor of locals, very much like the Thompsons.  "We had so many conversations," he says of his co-stars. "There were a lot of open conversations, lots of dialogue. I think the topic of micro aggression being these violent forms of communication was a profound thing to kind of play with."
Though he's Black, he still had to sit with the reality that he too was on a resort, dependent on the labor of Black and brown people whose lives look very different from his when they clock out and go home. Playing Gogo forced him to confront issues he hadn't dealt with before and face how, even as a Black man, he can be (unintentionally) complicit in participating in potentially toxic racial dynamics. "I'm still working through it," he says. "I'm unpacking it. But I think the profoundness comes from, you know, you're so ahead, that you know everything, but you turn the mirror back on yourself. And you're like, 'Oh, wait, how do I contribute to these systems? What is my part in these things, even if it is unintentional?' Nothing is ever black and white or simple."
Indeed, as Saint X speeds toward its finale, which reveals what happened to Alison, viewers remain thrust into a story that's a jumble of complicated social issues with no easy answers. Life on the island for Gogo and his coworkers seems equal parts simple and complex; though they're on a tropical paradise, they're exposed daily to Americans with disposable income and comparatively carefree lives––natural breeding grounds for the staff to form resentments and, in the case of Gogo's best friend Edwin, schemes for exploitation. The dynamic between Gogo and Edwin gets increasingly messy, and it's clear that as dangerous as the white visitors are, Saint X's Black characters aren't exactly all heroes either. As we saw in Episode 4, when it's revealed that Edwin betrayed Gogo by getting involved with Gogo's romantic interest Sara (Bre Francis) -- not to mention Edwin's involvement with shady drug dealers -- Saint X proves it doesn't intend to present white folks as villains and Black folks as angels, but rather show what happens when a swirl of macro issues like race and class come head to head with primary human motivations like greed, lust, jealousy, and sex.
"To be betrayed by your best friend," Bonzie says, "It's just an unspeakable horror. The pain of that is just like shaking your spine. It's a really interesting dynamic they have and you have to wonder how [Gogo] keeps going after being hurt so many times."
Homophobia plays a part in the story, too. All along, viewers have seen how Edwin and others on the island express contempt for gay men ––"anti man" they're called–– yet that same sentiment impacts what happened to Alison in ways nobody would have predicted. Anti-gay bias is an issue that has long been an issue in the Black community, and especially in Caribbean culture, yet as the details of Alison's death come to light, the ways homophobia colors what people see (or choose not to see) becomes impossible to ignore. "I think what the show does is take a look at that relationship between masculinity in the Black community with Black men specifically." He cites the recent controversy after Jonathan Majors posed on a cover adorned in pink and flowers, and how his masculinity was questioned. "For me, I really appreciated how the show makes us examine the relationship between Black men with each other, homophobia, and the Black community."
Ultimately, Saint X reveals how, fundamentally, the more things change, the more they stay the same: Gogo becomes swept up in a witch hunt after a white woman's death that has much more to do with everybody's assumptions than what happened. "When a tragedy occurs, we all rush to judgment," he says. "And when we rush to blame, maybe we're not seeing things exactly as they are. Every Black guy has a story -- every single one. The world puts things on Black men. And we're seeing the results."
Saint X is on Hulu; the finale airs May 31.