#OnTheVerge: Eem Triplin Sounds Like Himself Which Is Like No One Else
The Pennsylvania native details his upcoming debut project 'Still Pretty EP' and the route he took on his come-up.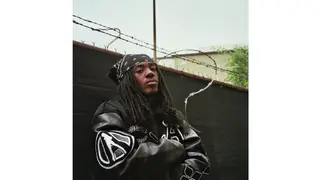 In a breathtakingly brief period, Eem Triplin has soared to widespread popularity, powered by his inimitable voice and the unique way he navigates a beat.
The rapper hailing from Pennsylvania achieved viral fame in May 2022 with his "Awkward Freestyle," a melancholic track dissecting a bitter breakup, which ingeniously samples Tyler, The Creator's song "Awkward." The song resonated with listeners and received a stamp of approval from Tyler himself.
"If it wasn't for that song I wouldn't be here," Triplin told BET.com in a recent interview. "I credit all of the followers I have to that song. If you think how many followers one song could get you, just look at how many I have. If it wasn't for that song, I literally would not be talking to you right now."
Much of Eem's music probes the themes of heartbreak, and it's this authentic representation that deeply touches his fans. In his single "Tell Me I'm Right," released in May, he once again weaves verses of romance, encompassing sentiments about suspending love while he pursues triumph in the music industry.
Triplin's journey had humble beginnings in the quaint city of Johnstown, in the Keystone State, where he says unique individuals reside and he experienced a "wavy" childhood. His involvement in his high school band, playing percussion instruments, laid the groundwork for the innate timing he would later incorporate into his music. "I think that's the reason why when I started making beats I was just like, music is always around me," Triplin recalls.
On his path to musical prominence, Eem initially served as a producer, crafting beats for the online instrumental catalog, Hipstrumentals, for artists like LUCKI, Playboi Carti, and more. His work grabbed the attention of the former, leading to a touring opportunity a few months prior. This experience was instrumental in carving out his reputation – not solely as a producer but as a rapper as well.
"I got to a point where I'm like, 'I can just generate this on my YouTube,' and I started posting type-beats, and then was really doing that up until last year," he elucidates. "I'm posting type-beats to make cheese, and then it just got to a point where I just built a fan base. I always try to generate things back to me rather than just to the beats."
Come mid-2023, Triplin is on the brink of the big leagues. With over 1.5 million monthly streams on Spotify, his music – not just his beats – is gaining substantial traction. And this rise is perfectly timed for his forthcoming ventures.
On July 9, Eem Triplin is scheduled to launch his debut project, the Still Pretty EP, representing the first time he'll release a compilation of songs simultaneously. He sees this as an exciting novelty.
"It's definitely nice and I'm going to push it and I'm gonna do my thing with it and it feels good," Eem enthuses. "I'm happy that I'm dropping more than one song. I'm happy to see how people take it – whether that's good or bad. I doubt it's gonna be bad, but I'm just ready to see how people take on more than one song by me, and I just hope people listen from top to bottom."
For Eem Triplin, distinguishing himself amidst a burgeoning wave of artists nationally is paramount. While the current diversity in hip-hop is awe-inspiring, it amplifies the challenge of grabbing potential fans' attention.
"I don't be on no trendy s**t, I just do me," he asserts. "Whether the last song I make sound like the new song, I don't give a f**k, who [else] sound like [me]? I feel like when you hear me, I'm unique – my voice don't sound like nobody, my cadence don't sound like nobody, my beats don't sound like nobody. I'm harder on myself than any fan could be.