Eva Marcille On How Fashion Played A Major Role In Shaping Madam DeVille On The BET Series 'All The Queen's Men'!
The model and actress will appear in BET's upcoming fashion documentary, 'Black + Iconic: Style Gods.'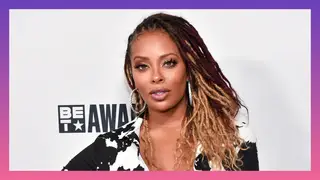 Eva Marcille uses clothing as a form of expression!
The multi-hyphenate star recently opened up about her love for fashion and style in the upcoming Black + Iconic: Style Gods documentary on BET. The two-hour fashion film features original interviews with legendary Black models, fashion designers, and style icons to explore the countless ways Black people have broken barriers over the years.
During our interview with Eva, we were impressed to learn that the All The Queen's Men star uses fashion to reflect her mood.
"Some days I feel ultra-feminine, so I might wear very soft textures. Sometimes I might feel a little rugged, so I have on Gucci coveralls," she explained. "It's all about how I feel."
She added, "A sense of color always tells you how someone feels—a yellow means something, someone that wears black every day, that means something."
The actress says she pulls fashion inspiration from Erykah Badu and Janet Jackson. She's also a fan of the well thought-out looks from her All The Queen's Men character Marilyn "Madam" DeVille.
According to Eva, costume designer and wardrobe stylist Raiyonda Vereen is the mastermind responsible for the iconic style moments we often see on Madam.
"[Raiyonda] didn't just put clothes on me, she put a character on me. Everything I wear has an essence. It's for a reason," Eva revealed. "I can tell from a hanger if something works or not because there is a structure to who Madam is. Raiyonda defined it, she created it, and she continues to elevate it every season."
FYI: Black + Iconic: Style Gods premieres on Saturday, February 18 at 8 PM ET/PT on BET, BET Her, BET+, and VH1.