'I Can Feel It' Folks Believe Rihanna Is Teasing New Music In Super Bowl Halftime Show Trailer
The superstar singer tweeted the promo on Friday.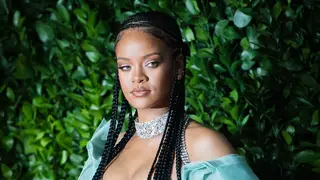 Rihanna's forthcoming Super Bowl LVII Halftime performance will definitely be one of the biggest events in music in 2023, but will a set of her hits be all that comes from it?
The superstar singer tweeted the trailer promoting the Apple Music Halftime show on Friday (January 13), where she's slated to hit the stage on February 12. It features voices noting the six-year gap between now and when she released her last album Anti and how many have written off the hopes of her ever releasing a new solo album again.
But could that drought be coming to an end?
The ad ends with RIRi putting her index finger over her mouth to silence her critics. Could this mean new music is on the way, or it even being performed at the Halftime Show? Many on social media are speculating that it reveals just that.
Others were more skeptical.
The new Super Bowl Halftime trailer isn't nearly the first time Rihanna addressed rumors and complaints about her not putting out new music, but it is the latest and perhaps most memorable example to date.