Watch: Jay-Z Gives Advice To An Adorable 11-Year-Old Reporter
A clip from 'Jazzy's World TV' has gone viral.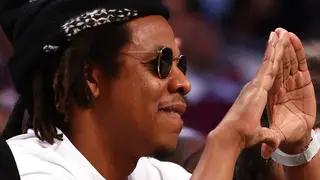 Jazlyn, a reporter from Bushwick, Brooklyn, landed an epic interview with Jay-Z that has now gone viral.
The 11-year old interviewed the hip hop icon for her online show Jazzy's World TV. Just like a pro, she asked Jay an excellent question and got an answer she'll never forget, "To all the kids who have dreams of being successful like you, what advice can you give them?"
Jay-Z replied, "Being successful like me? OK, believe in yourself, even before anyone else believes in you."
The energetic 11-year-old has been interviewing celebrities, athletes, and other public figures for her own YouTube channel since she was 9 years old. Over the course of the last two years, Jazzy has interviewed Dwyane Wade, Steve Harvey, 50 Cent, Alexandria Ocasio Cortez, Nas, Fat Joe, and more.
In what is becoming a solid avenue for young, ambitious content creators, Jazzy asks questions such as "What games did you play as a kid" to "What was your favorite cartoon as a kid?" Her interview with Jay-Z has gone viral, making her views and subscriber count guaranteed to increase.
Like the recently dubbed Hall of Fame Hov himself, she's able to glean a few gems of wisdom for kids like herself (and let's face it, for adults too) and represent the Brooklyn way. In a recent interview with Nas, for example, Jazzy spoke with the iconic rapper about the toughest obstacles he faced while growing up in Queensbridge and motivated him to succeed.

"Growing up there were a lot of distractions from education," Nas told Jazzy, adding he eventually realized that education was the number one thing he needed to try to focus on. "Because I had a lot of friends and there were a lot of parties and being a mischievous kid kind of took me away from school for a while but now I know, education is the most important thing."

Jazzy shared her exchange with Jay on Instagram on Wednesday, teasing that part two of her interview, which dropped Friday, Nov. 5.

In related news, Jay joined Regina King and director and music producer Jeymes Samuel to talk about the recently released film The Harder They Fall, which found them sharing thoughts on the project and tipping their hat to the likes of Craig Jenkins and Kazeem Famuyide.
You can watch part 1 and 2, below: