Brittany Howard of the Alabama Shakes: "I Don't Think About Color"
The singer, songwriter and guitarist talks all things rock and soul.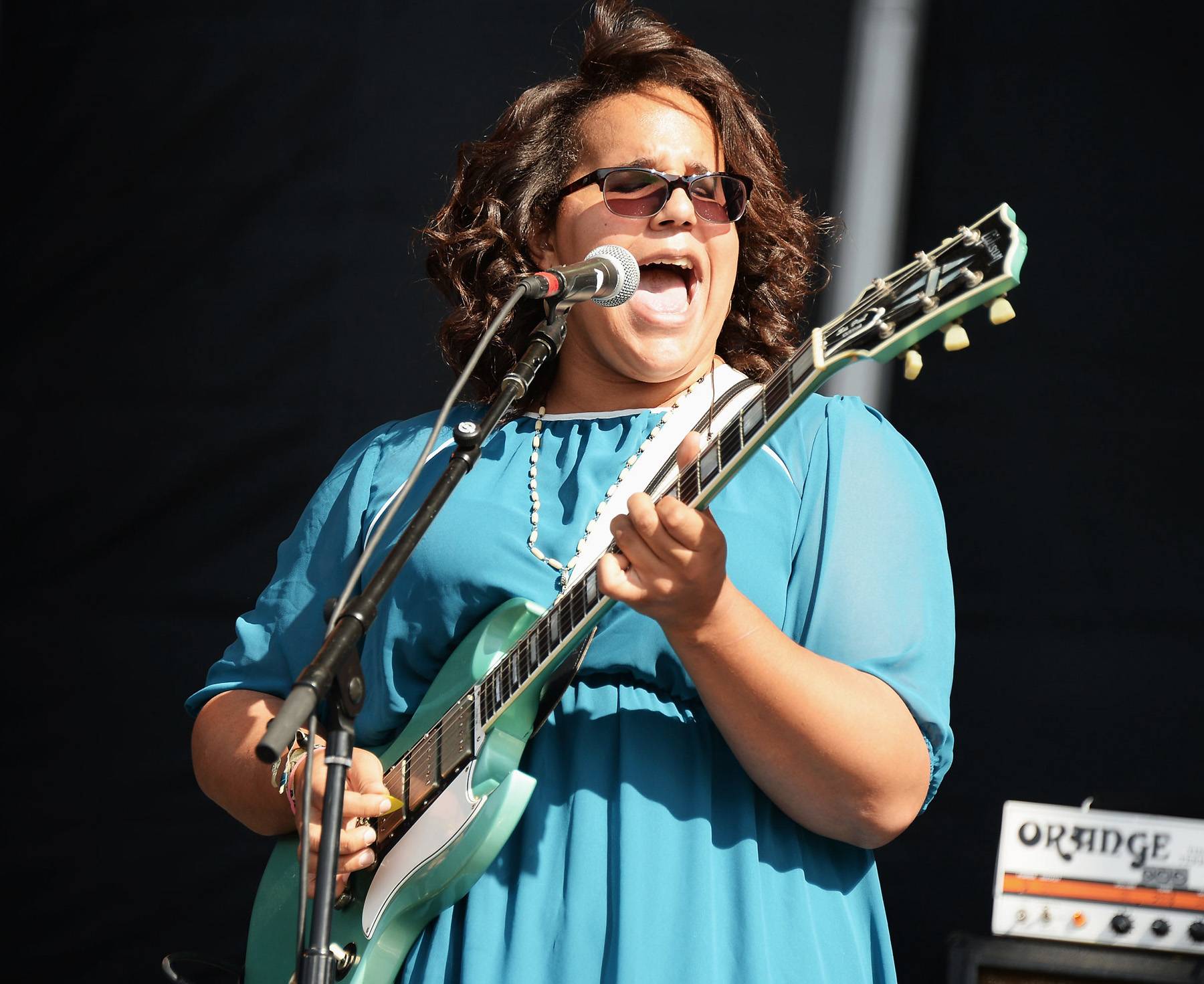 If you haven't heard of Brittany Howard of the Alabama Shakes, the 24-year-old is making jaws drop in the music industry. Armed with ferocious vocals, passionate lyrics and a dynamic presence — on and off stage — Howard as the front woman of the Alabama Shakes is bringing rock and blues back from the grave for a new generation.  
On Sunday night at the Capital Theatre in Port Chester, NY, the Grammy-nominated Alabama Shakes performed to a sold-out show, performing music from their latest album Boys & Girls. Hours before hitting the stage, Brittany was prepping for her first one-on-one interview with BET.com.  
Just finishing a cigarette, Howard sat down to discuss her roots, music and fame. Although surprisingly reserved, the Athens, AL, native possessed a quiet strength. Interviews, celebrity and folks wanting to know your business is new for Brittany and the band who never strived be the next big thing in music: "It's a miracle that we are sitting in Port Chester, New York doing an interview with BET. Like, what the hell?"
When did you first fall in love with rock music?
Sitting in my grandmother's kitchen, she always had solid golden oldies on the radio. The grittiest music, I was like, "That's my s--t."
You're often compared to '60's rocker Janis Joplin. How do you feel about that comparison?
People hear a powerful female singer in a rock and roll band and they say, "Janis Joplin." I think people just make that comparison because it's easy. But I don't think I sound like her at all. What do you think?
The emotion, I think people feel the emotion. But your tone is different.
I think I just do my thing. I think it's me. I definitely don't want to be anybody else. I don't want to copy Aretha [Franklin] because I can't sing like Aretha. I don't want to copy James Brown because I can't sing like James Brown. I just do the best I can.  
So you're not even influenced by Janis Joplin?
No — I mean, she's great and of course I love that she had all of that passion. But still a lot of people — Janis Ian is a passionate singer, Nina Simone was a passionate singer. Sometimes people can draw easy distances between me and Janis Joplin because it's the most obvious thing. Nina is one of my favorite singers —  Bon Scott [AC/DC], David Bowie.  
What is your racial background?
Mom is white, dad is Black. 
Do you identify as Black, mixed — how do you see yourself?
I'm both. Everything and nothing.
There aren't many women and there aren't many people of color who front a rock band. Is it ever odd being the only one — the only rock and roll brown chick?
I don't think it's odd. I think it's cool people like it. Because, shoot, people used to do it all the time. This is where rock and roll came from: Chuck Berry, Memphis Minnie — it used to happen all the time. It's still happening. All along, there's all these talented people, women, men, Black, white — we just got lucky.  
Billie Holiday once said something to the effect of she was living the blues, singing the blues and she almost got buried in the blues. Do you think of that — life imitating art?
Well, I suppose it's possible. But these songs aren't sad songs. Maybe they seem sad because of the lyrics but it's not why I perform those songs. It's not why I wrote those songs. A song like "Heatbreaker," it's a song about learning, it's not necessarily a song about heartbreak. It's more than that. We write those songs to relive how we got over something.  
You're a hard singer. How do you preserve your voice night after night?
It's a miracle! [Laughs] I probably should take better care of myself.  
I know that you're a smoker, you've talked about that.
Smoking is bad for you! Did you know that? [Laughs]
Adele was doing it. Look at her voice! [Laughs]
I think she quit — I'm gonna quit. It's terrible. It's a stupid childhood thing.

Are you concerned about your voice not being preserved?
So far, so good — I've been doing this for years. And my voice is stronger and I've learned more about it. When I first started, I was much weaker of a singer because I wasn't used to singing so much. Now I've learned when I'm singing on stage, not to go over. You can go over and mess yourself up. I used to do it all the time.   wouldn't know how to preserve it for the next show. Now, because I've spent more time doing this, I've learned a lot more.  
Jay-Z once said, "Fame is the most addictive drug in the world." Are you afraid of fame and worldwide attention?
I don't know if I care ... I never did this to be famous. For some people, that's their dream. My dream was to not work for anyone. There's only so many things I was good at — and how am I not going to work for anyone? I just don't want people telling me what to do. [Laughs] I was like, "How do I get out of this?" I was doing all this stuff, this labor work, just to pay bills — never had any money. I said, "This can't go on. I know myself, I don't have to do this." But I never thought it would be this — but I'm glad it was this. If fame comes with it that would be something that I was never seeking. It's not something that I really want.  
Your songs deal with love and relationships. Are you in love now?
Yeah, it's a beautiful thing.
When you're happy and in love is it hard to go back to those songs?
No, because they take on different meanings. This was this and this was how that became that — I'm not going to do that again and I'm not going to let myself be fooled twice. I think that's good for every girl to know.  
If there are other brown girls that might want to play guitar and do rock and roll  — what would you say to them?
I'm gonna try and think of what would I say to myself when I was first doing this. If somebody really wants to do this — let's say it's a brown girl — if she really wants to do this, can't nobody tell them not to do it. Ain't nobody in this world can tell her, "You can't do that" — because she wants to do it. She's gonna do it. Somebody could've said to me, "You can't play rock music, you're Black." Watch me! If they wanna play guitar, if they wanna play rock and roll, if that's really want they want to do, they're gonna do it.  
Being that you're a rock artist, does having the Black audience — whatever that means — does that matter? Do you think, "I want that demographic"?
I want everybody because everybody's different ... I don't think about color and I think that's awesome. My dad's my dad, my mom's my mom. My friend's are my friends. It's pretty simple.  
Sign up now to attend free film screenings, celebrity basketball games and more.
BET.com is your #1 source for Black celebrity news, photos, exclusive videos and all the latest in the world of hip hop and R&B music.

(Photo: Theo Wargo/Getty Images)