Q&A: Gladys Knight Bringing Soul to the Ballroom
She talks to BET.com about joining the cast of DWTS.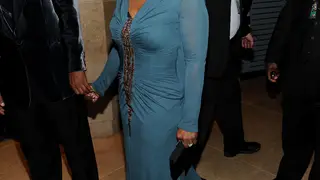 Dancing with the Stars has upped the ante this year by including the Empress of Soul, Gladys Knight, as a contestant on their fourteenth season.  The seven-time Grammy winner is sure to wow audiences just like she has done on the stage for over 40 years.  The vocalist is known for classic soul tracks like "If I Were Your Woman," "Neither One of Us (Wants to Be the First to Say Goodbye)," and "Midnight Train to Georgia."  In addition, she is BET royalty, receiving the Best Living Legend honoree at the 2008 BET Awards.  In an in-depth interview, a jovial Mrs. Knight talked about everything from Dancing with the Stars to Mitt Romney to Tina Turner to the late, great Whitney Houston. 
You are one of the greatest soul singers of all time.  How will that soul translate to dancing?
Soul is just that inner spirit.  I use that inner spirit for whatever it is I do.  Whether it's singing or dancing, I don't consider myself a dancer so it's a challenge and exciting.  I am having a whole lot of fun and the Dancing with the Stars family is exactly that—they are a family so I feel at home. 
How were you approached to do the show?
Well, I've been watching the show since the beginning.  I came a couple times because I had friends on the show and I really enjoyed it.  They had called me to do a show singing, but I was unavailable at that time.  My publicist called me and said, "How do you feel about dancing on the show?"  I said, "What?" [Laughs] I finally accepted and here I am. 
How much of a stretch is it for you to go from performing for decades to Dancing with the Stars? 
Well, I never danced with the Pips—they didn't let me dance! [Laughs] I used to learn all the routines, but when it came down to doing it they said, "You strut, the Pips dance!"  [Laughs] So, I thought this would be a nice adventure and I'm dedicating this show to the Pips!  Yes, I am!
We can't let you go without asking about music.  Many of your fans want to know how your voice sounds exactly the same after 40 years in the music business. 
[Laughs] To tell the honest truth, I can't take credit for all of that.  I had some great  mentors as I was coming up and starting to sing so early—I've been singing since I was four.  I had people telling me how to preserve myself.  When you are young in the business it gets difficult because you want to go hang out like your friends do, you may start picking up that cigarette—you may start doing a lot of things in your young, stupid foolish life.  But those things don't contribute to you taking care of your voice the way that you should.  Also, one my mentors said, "Why do you think you stay horse so much?"  I said, "I don't know."  He said, "Because it's out of your range.  Your top note is a B flat in your natural voice.  Anytime you go over that, you're going to be horse."  I tried it out and he was right.  So, it's little things like that you have to succumb to, which helps you do what you need to do.  And I want to do that because I love you guys so much.  When you pay your money to see me, I want you to have the best concert you can have from me. 
Are there any artists of this generation that you think have a similar "it" factor that the artists of your day had?
I'd have to give that to Mary J. Blige because I saw her growth.  I saw her when she was at her worst point.  I saw her make a decision to change her life.  I saw her improve with her music, even her ear.  It's something about things I hear in music that other people don't hear because my teachers just banged into me, "Pitch!  Pitch!  Pitch!"  Mary J. Blige has made the most improvement to me and the depth of the spirit and the soul in her music, the way she sings, gives her that "it" factor.  I saw her show for the first time when Tyler Perry opened his studio.  She was simply amazing.  I was spellbound and I'm not that way about a whole lot of people.  [Laughs]
You've been Mormon since the late '90s.  Mitt Romney is the most famous Mormon in the world right now.  Would you like to see him become president?
Not now.  I have to be honest with you; it's not about your faith, even if the church itself in its structure is perfect, the people in it are not.  That's not to say he's not a good person, don't get me wrong.  But I would not vote for him just because he is Mormon. I want to know what he is going to do for the people.  I want to see the compassion.  I want to talk about something else besides the money.  I know how hard it is to send two kids to college when you ain't got nothing. I know people may not think of me in that way, but this business gives you ups and downs.  I had two kids in college at the same time—don't tell me you are not thinking about them.  Don't tell me you're not thinking about the people down here struggling trying to get a meal, just being good parents, keeping a roof over their heads—that one statement alone is enough to lose me.  Not that I was there any way!  I am a Barack Obama fan, from head-to-toe, always have been.  He's not perfect; nobody is going to be that way.  Until you sit in that office, at that desk, don't tell me what you're going to do because you are going to come in and have some of the same problems as he did. 
Over the past year we've lost so many of your musical peers: Nick Ashford, Etta James, Whitney Houston.  Has that had an effect on the way you see or live your own life?
No, I've always tried to live a life that is suiting to my Lord and Savior Jesus Christ and my Heavenly Father—but it helps me to know that there are certain things about a life we should be aware of, the paths that we take.  We should definitely be more careful about the things that we chose to do with our lives.  My heart hurts because I knew all of these people.  They are my cohorts but so many of them were family. Like Whitney, even Michael [Jackson].  I'm still sick about Michael because he was such a misunderstood human being.  I miss them... Luther [Vandross], I bought him his first pot when he moved to Beverly Hills.  He had not a pot in the house! [Laughs] I cooked a big meal for him and his family, Whitney and everybody else came by that night just because they were saying, "Oh, Gladys is cooking!"  We had the best time.  You know what I'm saying?  This is family, yeah, I miss them...
Years ago, you told a story about how you suffered a miscarriage when you were on the chitln circuit and Tina Turner helped you.  Can you tell us more about that? 
We were struggling, all of us, during that time.  She wasn't the great Tina she turned out to be and we weren't the great Gladys Knight and the Pips that we turned out to be, but we were fellow cohorts, doing this thing together and loving it. We didn't have money to have a car so we used to walk from the theatre to the hotel. We were just walking—in those days we were doing six shows a day. It took a toll on me, so when I came to work the next day I had miscarried. We were all on the show and Tina said, "Girl, just take it easy and if you need us to sing your parts, let me know,"—and I wasn't wearing makeup then either. She was the first one to put make-up on me. Tina said, "Gladys!  Come here for a minute!" I said, "Do what you want, girl!" [Laughs]
When you get to heaven, what is the DJ playing?
"I sing because I'm happy / I sing because I'm free / His eye is on the sparrow / And I know he watches me." My mom used to sing it but I never got it, I was too little.  She said, "One of these days, you're going to know."  God is gracious enough to let us know, in due time while we're here and the fact that I'm still around and I'm still singing, it is really to his glory. So, I know why I sing now and I'm happy. I'm here and I'm able to affect people's lives in a positive way if I could just keep moving in this direction. 
Season 14 of Dancing with the Stars premieres tonight at March 19 at 8 PM / 7 PM Central on ABC.  Be sure to support Gladys Knight!

BET.com is your #1 source for Black celebrity news, photos, exclusive videos and all the latest in the world of hip hop and R&B music.
(Photo: Larry Busacca/Getty Images)