Cardi B Reacts To Losing Multimillion-Dollar 'Call of Duty' Deal
The Bronx rapper says her "stupid decisions" caused her to "miss out on money."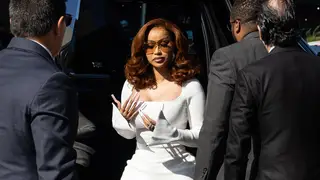 Cardi B is reminding her fans that there is consequences to your actions no matter how big or small and that "stupid decisions" from her past, caused her to "miss out on money."
On Tuesday (Sept. 27), the Bronx rapper that she fumbled the bag —- literally, after an eight-figure deal with the Call of Duty video game franchise was revoked, amid her recent assault case.
"My stupid decisions from the past caused me to miss out on money now," she wrote on Twitter. "I had a multi-million dollar Call of Duty deal on the table that I couldn't take because of court."
She doubled-down on her message telling her 24 million followers to "think twice about those quick decisions!," wrapping up her message saying it was a "lesson learned."
The Grammy award-winning rapper explained to a fan who urged her to renegotiate the Call of Duty partnership, she shared that the gaming opportunity ultimately ended because there was a conflict between her court dates and a shoot for the project.
In case you missed it, Cardi finally resolved a criminal case regarding a few fights at New York City strip clubs. The 29-year-old plead guilty and was required to perform 15 days of community service.