The Story Behind the Styling of Blood Orange's New Video
James Flemons also happens to be Solange's go-to stylist.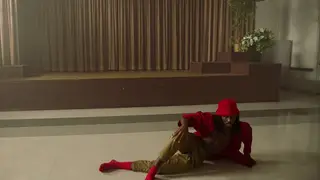 In the stagnant heat of last summer, recording artist Dev Hynes aka Blood Orange released Freetown Sound, an album with a message rooted in race relations and soundtracked by his signature synth-pop. A few months later, Solange Knowles dropped A Seat at the Table, a commentary on Blackness in America through her unique, feminine gaze. Both Freetown Sound and A Seat at the Table received critical acclaim and quickly became required listening for 2016.
Stylist James Flemons has worked with both Hynes and Knowles on their creative endeavors. Over the past few years, Solange has frequently enlisted Flemons to satisfy her sartorial needs. Most recently, Flemons contributed custom pieces for her "Don't Touch My Hair" video and also created custom pieces for her band to wear at SXSW. Flemons, who has been designing clothing since elementary school and has his own line, received his first solo styling gig from Solange in 2013. Not bad for a first job, right?
This past week, Hynes announced a new music video from his Freetown Sound opus would be released exclusively through Tidal. The 9-minute video, in actuality, ended up being a compilation of three songs from the album, "With Him," "Best to You," and "Better Numb." After a chance encounter, Flemons, who had never before worked with Hynes, was tasked with styling the project. We spoke with him about the messaging behind the video, how the clothes helped tell the story, and his solo line called Phlemuns. 
How did you get involved in this project?
Luke Gilford, the co-producer, is a friend of mine. We had met to talk about working on a project together, more specifically a creative collaborative project between him and my clothing line. He kind of sneakily set up meetings with me and Dev back-to-back so that we would coincidentally run into each other so he could introduce us to each other. He had it in mind that he wanted me to style the video because a lot of the references are from shoots that I put together for my line and they really wanted to use the energy that i bring to my projects. He introduced us and then later asked if I would be interested in coming on board to style the video.
Did Dev have any requests or provide any direction?
Yeah, I got a creative deck and template about the whole theme and story behind the shoot and a couple designers that Dev was specifically interested in having be a part of the video. Basically just kind of reference images from the '70s and the '90s and riots and protests within the Black community around America and just stylistic references and the run-down explaining the process with what was going to happen throughout the video.
You said the team was specifically interested in references from your line. Can you describe some of those?
I like to incorporate a lot of diversity and mixing of different types of people and ethnicities and it was kind of very much influenced...well they pulled a lot of images that really brought out that identity within a lot of my shoots. Kind of just like rawness, and I like to balance a lot of present and past influences within style and clothing and that was a big part of the video shoot that they wanted to incorporate, because it was kind of just the duality of past and present. There were just images of models, which I kind of also helped cast models that I had used in the past. Just collaborative shoots I had done.
What was your understanding of the overall story that was being told and how did the clothes aid in achieveing that?
The overall story was shedding light on, again, this whole duality of past and present and the state of Black people in America and how the present-day parallels how things were previously. The riots of the '90s and protests in the '70s and with the Black Panthers and just protests within the Black community fighting for equality amongst our white counterparts and just with other ethnicities in general. The styling was supposed to help enhance that and bring this kind of past flair into this present identity using the backdrop of the houses in Baldwin Hills, where the architecture is still the same as the '70s. It was kind of this dance together with the imagery and the message and the story and the clothing. This whole duality of past and present. 
There's a lot of red and neutrals going on. Can you explain their intended meaning?
The red specifically, a lot of the video treatment kind of references Angela Davis and The Black Power Mixtape and there's that kind of like iconic, legendary photo of her sitting being interview and she has that red turtleneck sweater on. In the deck of images, that stood out to me, it's always stood out to me, stylistically. It was really important for me to find things that kind of referenced that. And red also just kind of symbolizes pain and also love. I thought it was important to carry that throughout. With the earth tones, that was really for me, my stylistic direction. Just naturally, I'm very drawn to the earth tones and I incorporate them a lot within my collections and my clothing and it just brings this earth-y feeling to everything, just a very tangible, warm connection. It tends to happen with me without even noticing, but I always gravitate toward them. 
There were also seemingly a lot of extras and people involved. Did anyone wear their own clothes?
Everyone wore clothes that I provided except Dev. Dev mainly styled himself. He has very particular style, which I appreciate about him. He incorporated a lot of the pieces that I brought but he used some of his own too. But everyone else was in clothes that I provided. They were either from my closet, my clothing line, from a few others brands which were Eckhaus Latta, Telfar, Pari Desai and then mine. 
Do you have a favorite piece from the shoot?
There is this one really beautiful shot which is my favorites that I guess stands out a lot. It was one of the opening scenes, an interracial couple, a white guy and a mixed Black girl, and she has on like this knit, pieced Eckhaus Latta sweater top that's kind of like hangs off of her body a lot. It starts with a big embrace and then there's a moment of her laying on the ground and it kind of like zooms up. I really, really liked that piece and the way it stood out in the video.
Tell me a little bit about your line. 
I like to make clothes that have a bit of a conceptual idea and overtone but are very tangible to grasp and not so intimidating. I'm very much influenced by vintage clothing and I work a lot based off of pieces I've thrifted. There's a very heavy influence from the '70s in my clothing and I like to bring this kind of balance of past and present and I kind of like to think of it as in the past what they thought clothes from the future would've looked like or in the future what vintage clothes would look like. It really fit perfectly actually with the video because I'm very much about duality and juxtaposition and almost mixing things that aren't supposed to go together but bring them together in harmony and then just the duality of different ideas and different decades and different styles and experiences and genres. I have a very eclectic personality and it kind of naturally comes through in my clothing, because I'm just interested in so many different styles and try to blend them seamlessly for this universal feel. I try to showcase diversity and bringing that to a normal place...making it normalized and not so, like, "Oh, my gosh, you have a diverse cast of people in these clothes!" and like "Here's an all-Black cast in this." Just kind of like, this is the way our world is and this is how it should be presented and normalized. That's just the overall tone of my clothing and what I present and how I like to present it.